This Is A Trend
When Zach Johnson is involved in a limited field event, he's a dangerous man. Last fall he won the 70 man BMW Championship in Chicago. Last month he won Tiger's 18 man World Challenge. Today in Maui he beat a 30 man field to take the Tournament of Champions. The victory should come as no surprise because Zach's game is on fire right now. Even Tiger Woods couldn't shake the pesky Iowan. The surprise is that Johnson won on a course this big where bigger hitters have such an advantage on him in distance off the tee.
Kapalua has some of the biggest fairways of all the courses the PGA Tour plays in a season. In the past, bombers like Dustin Johnson, Tiger Woods, and Fred Couples have won various events at the Plantation Course. The par 5s that are reachable to the big hitters and the short par four 14th hole have always provided an advantage to longer players. Zach knows this, he just doesn't care. He plays his game on any course he tees it up on. Hit the fairway, find the green, hit the wedges close and make more putts than everyone else….that's his formula and he executes it to perfection.
ZJ started the day 3 shots off the lead after a 3rd round 74 left him at the back of the pack. Johnson told TGC that he felt he played fine in round 3, but over thought things and didn't score. In the final round he played more aggressive and tried to not over-think anything on the greens. Webb Simpson, Spieth, and defending champ Dustin Johnson were all in front of Zach and had a distinct advantage off the tee. He knew he have to go low to win.
When the dust settled Johnson ended up one shot ahead of Jordan Spieth, who if he'd putted half as well as Johnson he'd have won going away. Zach one-putted 32 of the 72 holes he played in Maui. That's incredible and obviously lead the field. Every chance Zach had with a wedge in his hand was stuck close the the hole. He made no errors. He merely watched playing partner Dustin Johnson out drive him by over 70 yards on a few occasions then walk off the green with the same score or better. Dustin looked baffled.
Spieth's runner up finish is his fourth since joining the tour. He played well enough to win, however, a few missed opportunities in round 4 will haunt him. The big one came at the par 5 15th hole. Jordy thought he hit his 2nd shot tight. Instead it came up short and left him with a difficult pitch over the false front of the green. His 3rd shot was poorly struck, came up short, and finished at the bottom of the slope that guards the front portion of the green. He was lucky to make par from there.
Playing a group ahead, Johnson was forced to play a similar shot. She stuck a little spinner near the hole and knocked in the short putt for 4. The way those to played that hole from 30 yards and in was the difference in the tournament. There's no shame in Speith's efforts though. He valiantly birdied 17 and 18 to make Zach sweat and a high finish such as this in his first trip to Maui is a pretty nice accomplishment for a 20 year old.
We should probably get used to seeing Spieth and Johnson battle this year just as they did at the John Deere last year. They're both obviously playing well and are two of the most consistent players on tour. You should expect this trend to continue, and we might see them face off again as soon as this weekend at the Sony, they're both in the field.
Best Dressed My Ass
The NBC crew on the Golf Channel was pretty damn good all weekend. They used a nice mix of graphics and were snappy on the yardages for tee shots and approach shots about to be struck by contenders down the stretch. I'm still not sure how they did it, but TGC even had crystal clear audio of several of the chats Jordan Spieth and his caddie had. This was golf porn for people like me. I wish we could get inside a player's head like that more often. The audio captured from Spieth typically continued throughout his shot and we also were allowed to hear his reactions to the shot as well as his pleads for the ball to get up, sit down, etc. Nice work from TGC and the Peacock.
Johnny Miller made a cameo appearance for the weekend coverage, then showed up in full force for the final round telecast. Johnny was Johnny, you know what you're getting with him, but he lost me when he told viewers that Billy Horschel was the best dressed guy on tour. Huh? Here's Billy Ho's attire for the final round at Kapalua that inspired Miller's comment: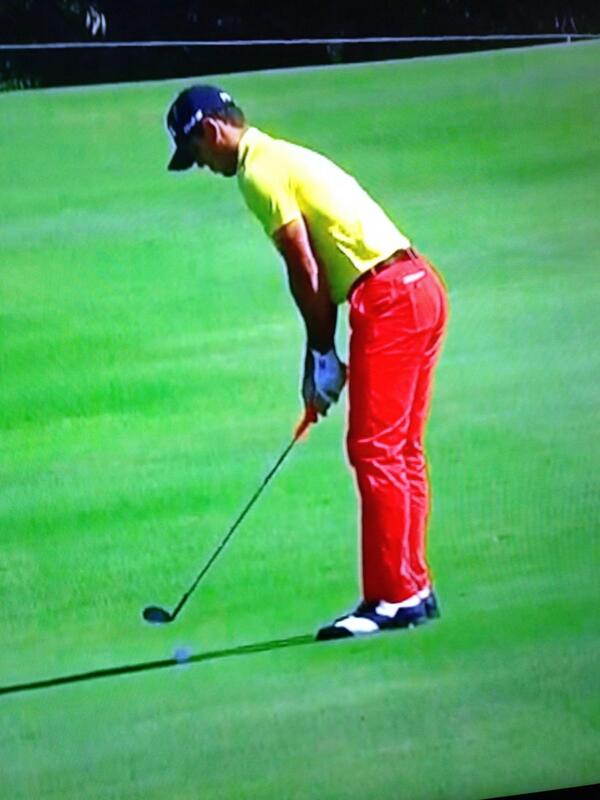 It appears to me that Billy was going for the Ronald McDonald look on Monday in Maui. Perhaps he was craving a Filet-O-Fish and a Happy Meal? And for Miller to call him 'best dressed', well, that just proves that Johnny is color blind and ignorant. Johnny must have forgotten Billy's octopus pants from Merion last summer. Unlike Johnny, it will be hard for me to ever forget them.