On The 9th Day Of Christmas, Your True Love Should Give You Wedges
Just in time for the holidays,  I'm giving you a no holds barred review of 9 brands of wedges for your reading pleasure. As always with my posts this will be brutally honest, curt, and probably irreverent. To keep this as simple as possible, there is no use in me telling you about the shaft options each company has for their wedges. That's splitting hairs. They're all relatively the same and I've yet to ever hear about someone selecting a wedge because they could get a graphite Project X shaft in it instead of a standard True Temper S300.
Additionally, most club manufacturers produce wedges in every bounce and lie angle you could want so long as you custom order your desired wedge with your exact specifications. Therefore, I'll keep bounce and grind discussion brief. If there are extra customization options available to the public, I'll make sure to mention it.
For those of you that don't know much about wedges, this might be educational. For the rest of you….enjoy the ride.
Callaway – Mack Daddy 2 ($119 MSRP)
In the early years of Callaway Golf the company was mostly thought of for its innovative designs in fairway woods and drivers. In 1996 Callaway got serious about wedges when they hired the founder of Cleveland Golf, Roger Cleveland, to be their Chief Club Designer. Roger has been popping out nifty wedge designs for Callaway now for over a decade and most models don't disappoint.
Roger's Mack Daddy 2 wedge is no different. For you tech nerds you'll want to know that Callaways says the 39% larger grooves create 25% more spin on shots hit out of the rough (cough……cheaters…….cough). The MD2 also has special 'laser' milled grooves that increase friction on the club face to create more spin. Essentially, these are the wedges Phil Mickelson was begging for when the USGA changed their groove rule for tour pros in 2009. Mack Daddy 2 wedges can be ordered with custom sole grinds and in two finishes, chrome (above) and slate (below). The latter will oxidize over time to eventually show that rusty, unfinished look we're all accustomed to seeing.
I tried these at a demo this year and found it hard not to walk away with a new pair in my bag. What stopped me? I'm really not a Callaway guy and I'm brand loyal to what I do buy. These look clean, set up great, and have a small looking head that should appeal to a better player's eye. They're also forged for those looking for that special feeling. What's the knock on them? Not much. The Callaway stamp on it was the deal breaker for me. Well, that and the name. I don't need a constant reminder of this in my bag (RIP Kris).
Some folks will bitch that the grooves produce too much spin or chew up their golf ball too much. That's going to happen with any manufacturer's wedges in this day and age, but even more with the Mack Daddy 2 thanks to the groove size. Unless you're buying a used wedge, be prepared to remove chunks of golf ball from any new groove.  
Grade: A-
Cleveland – 588 Series ($99 MSRP)
As I noted in the above, the founder of Cleveland Golf now works for Callaway. What does that tell you? It should tell you that the product this company has produced for the last 15 years is mostly sub-standard. However, what Cleveland does well (and always has) is wedges. In my opinion, Cleveland was a pioneer in producing wedges with more loft and various bounces and grinds to provide players of all skill ranges with the options they needed to improve their short games.
The 588 series made by Cleveland is a classic. For the newest versions of the series it appears they've barely changed the design since Roger first made it. In actuality, they recently reverted back to it but tweaked the grooves and materials they use to produce it. They also have different finishes for their wedges like the other club manufacturers do. A strike against the 588 series wedges would be that the heads on them seem to have grown just a touch over the years. I wouldn't call them a game improvement club, but I don't think you're likely to see them in a low handicapper's bag.
That being said, you might notice a price break at most retailers and find that they perform very similar to wedges that cost 10% to 20% more. The 588 series might also be the most durable and versatile series of wedges being made. I owned a 53* and 60* model for nearly a decade and thanks to a groove tool and some TLC I didn't feel as though a newer wedge would out perform them until the day they were replaced.  
Grade: B
Mizuno – MPT4 ($129 MSRP)
Forged. That should be the key word in your brain if you're considering buying a Mizuno wedge. Are you comfortable with that feeling? If yes, proceed to demo. If no, put the club down and look elsewhere. Mizuno has long been the king of forgings, and for wedges there was a time when they made the cleanest looking wedges you could find. Those days have passed, unless you find an MP R-12 model from last year lingering around that fits your eye. As a tease, I'll show you the MP R-12 below:
Alright now, tuck that golf boner away….this isn't the place for that. That's a great looking wedge. For some reason, the Mizuno folks decided that they'd no longer make it. I can't even find confirmation of that, but they no longer have any information on their website about it. Brilliant. What they've left us with is the MP-R12's ugly little brother, the MP-T4. Feast your eyes on it: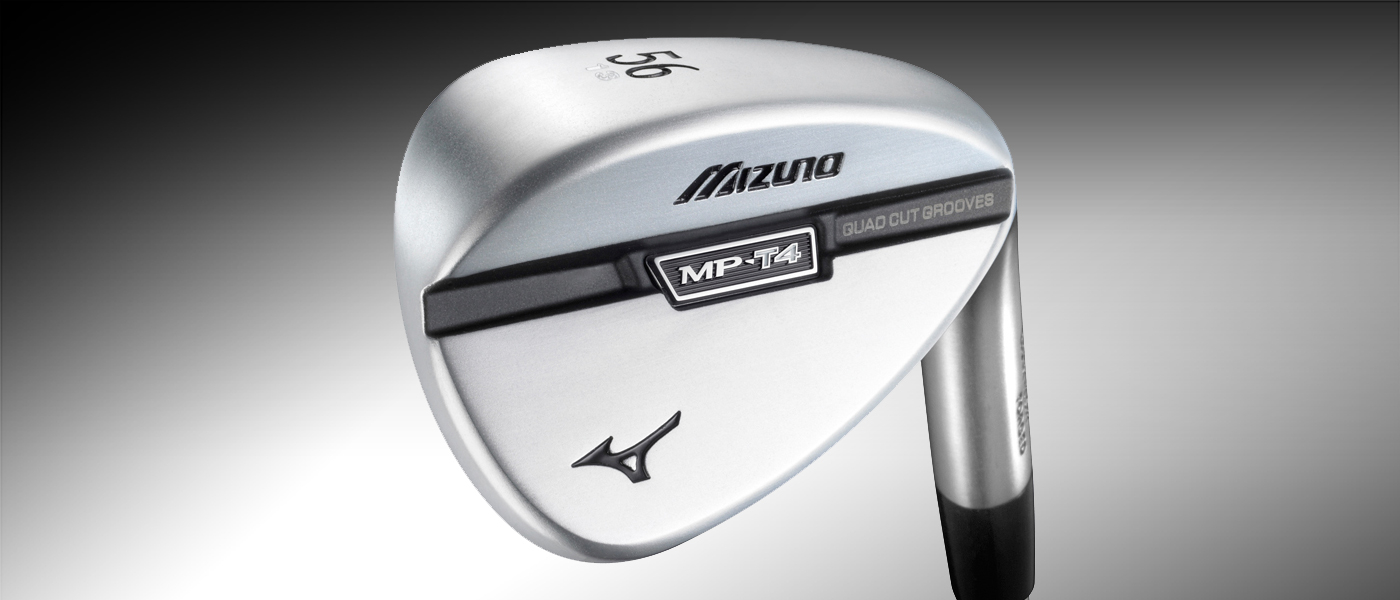 Oooooooooohhhh…….ahhhhhhhhhhh!!!!! What a modern marvel, or not. Let me get this straight, they took a good looking, highly thought of product, dumbed it down, and put an ugly line and emblem on the back? As my burrito guy at Chipotle says, 'no bueno'. I'm not buying that and neither should you. Based on looks alone, I wouldn't even pick it up to demo it. I'm sure they perform fine and hey, if you already bought one…..well……it looks good on youin your bag. The look of a wedge means a ton. You wouldn't go talk to a chick across the bar if you thought she was fat and ugly. Picking a wedge shouldn't be much different. It has to look good to your eye.
Mizuno, like everyone else, offers the wedge in the two finishes (or similar) that we've already discussed. They don't do anything custom for you either unless you're a tour player. That's disappointing, but far from shocking.
Grade: C-
Nike – VR Forged ($129 MSRP)
As bad as I generally think Nike making golf balls and fairway woods/drivers, I think they do just fine with their production of irons and wedges. They keep the look simple, yet they are slightly innovative with somewhat classic designs. I guess that is what appeals to me. I know it's not the giant Swoosh.
And there's that word again, forged. It's not for everyone, but like the Callaway and Mizuno offerings discussed above, all of Nike's wedges are forged. Unlike the other companies, Nike offers no options for any finishes other than the standard steel/chrome look you see in the picture. What they do offer is three different grinds. The grinds are standard, dual narrow, and dual wide. A quick click to the Nike site will further educate you in what each grind specializes in.
I've tried these a few times and again have almost left the demo with a pair. One of the characteristics of them that I like most, but others abhor, is their weight. These sons of bitches feel heavy in your hand. When you deliver the club to the ball it can at times feel as though you're about to send a bowling ball down the lane. Personally, I think that enhances the way the club feels, but many are uncomfortable with such a sensation when handling their wedges.
$woosh also won't blow you away with how they market the super-sonic-triple-carbon- whatever grooves they're putting in these wedges. They simply tell you the grooves have stronger, more aggressive edges and deeper channels that conform to the USGA standard. That's it. Simplicity is a good thing.
Grade: B+
Ping – Anser ($170 MSRP)
In my experience, you're either a Ping guy (or gal), or you aren't. I am not. I love their bags, but I haven't had a Ping piece of equipment in my Ping bag since 1995. Chances are if you have Ping irons you also have Ping wedges. Like I said earlier, so much of what you like about a wedge is how it looks and the Ping look will only appeal to certain people.
What Ping is offering now is a forged line of Anser wedges. The Anser has, over the years, been a very successful line of putters for Ping. Now they've moved the name to their wedges.
I wish I could give you more info on Anser wedges, but I haven't hit them. Like I said, I'm not a 'Ping Guy'. What I do know is that the Anser series was one of the highest rated clubs in Golf Magazines 2012 club testing. Testers loved the look and performance of the club, specifically the control and solid feel each shot produces. The only complaint from the tests were that the Anser didn't feel as soft as a Nike, Mizuno, or other forged wedges. Based on looks alone, my one negative about the club would be the cavity back. A performance wedge such as this, or what Ping perceives it to be, should have a cleaner look with no cavity. However, that's what Ping does. If Ping equipment generally appeals to you, you'll probably like the Anser wedges and overlook the faults in it I see. I'll have to grade this one on a curve.
Grade(s): A- (for Ping players)/B (for everyone else)
SCOR4161 ($147 steel/$164 graphite)
Have you heard of SCOR4161? Chances are you haven't. This fairly new golf club manufacturer jumped outside the box in their thinking by offering clubs that range from 41 degrees to 61 degrees, hence their name. SCOR seems to think that you should hand over the scoring clubs in your bag to them and they'll take care of the rest. In general, they're not doing anything much different from other companies making forged wedges, but the entire concept is unique so they're getting a mention here.
If you haven't heard of them then you also probably haven't tried them, seen, them, or read much about them. At Golf Magazine's 2013 club testing SCOR wedges graded very high. If you're willing to take the leap and dump your 8 iron, 9 iron and all your wedges for the SCOR product, you're cutting edge, and this might be just what you're looking for. To my eyes they look clean, they're forged, and the beveled sole will allow you to play almost any shot you can think of. I'd like to give them a try, but unless they send me a few I'm not popping $150 per stick to put my 9 iron and PW on the bench.
Grade: Incomplete
Scratch – Fit Wedges ($199 MSRP)
Like the SCOR line above, Scratch is a bit of an unknown club maker to the masses. Unlike SCOR, Scratch has a bit of a cult following that is loyal and believes in the product almost like it is a religion.
Scratch Golf was founded in 2003 by a bunch of golf nerds that loved working on clubs and tinkering with custom grinds, soles and bounces in their garages. The company got started with custom wedges, which were all handmade one at a time by master craftsman Jeff McCoy. Custom is what the company does, it was their mantra from the beginning and continues to be today. They'll grind your wedges any way you can imagine and include custom finishes, stamping, colors, lofts, etc. Their customer service is very hands on. Club makers will take your personal call to discuss your options and get your order perfect.
0
Scratch wedges got noticed and are now played by several tour players as well as used at almost every level of professional golf. Personally, I love everything about the wedges Scratch makes. If they were a woman, they'd be supermodel Marisa Miller.
Yeah, her. They're that good. Why don't I have them in my bag already? Price. I view a wedge as a tool, like a shovel or a rake. You're going to stick the thing in mud, take huge divots, and beat them up during every round you play with them. While you want them to look good to your eye, you also have to realize that you'll be replacing these tools in 2 or 3 years depending on how much you play. Why customize your wedges to such an extent and pay that freight only to replace them? That's just my reasoning for not buying them. If you're okay with the price tag, by all means, get some.
Grade: A-
Taylormade ATV ($120 MSRP)
Taylormade Golf is as cutting edge as it gets in golf club making. They market their products better than almost anyone else in the business. Any club they make that you'd use to hit a shot over 100 yards is a perfectly fine product. Their drivers in most cases perform better than anything their peers make. But, when it comes to wedges, they're pretty much dead last in my eyes.
I half expect Taylormade to buy that shitty face-insert-wedge the Golf Channel runs infomercials for in the middle of the night and market that to the masses. Oh wait…. they kind of did that with their xFT wedge that came out in 2009. Taylormade currently offers six different makes of wedges, but none of them are worth they steel cast for them except the ATV wedge pictured below.
ATV of course is short for All-Terrain Versatility. TM markets the wedge as a club that can handle a multitude of shots, course conditions and swing types because of the special sole they designed for it. The ATV wedges have no bounce shown on them because, according to their website, the sole takes on different bounces depending on how open the face is. Well, that's true with any wedge, which, in my opinion, is why you find a wedge with the bounce you like in the first place.
All my wise ass comments aside, I have the duty to inform you that the ATV performed great at this years club testing and was rated very high by almost every rater/tester. I personally hit it at a demo and thought it was very vanilla. I'd liken it to walking into a great seafood restaurant and ordering a hamburger. With all the other options you have as a customer, you probably are a very loyal Taylormade customer if you buy this wedge. Purchasing an ATV wedge also means you'll be stuck looking at that ugly stripe on it for the duration of the time that it is in your bag. That could be tough to stomach.
Grade: B-
Titleist – Vokey Design Spin Mill 4 ($145 MSRP)
Bob Vokey has done for wedges what Scotty Cameron has done for putters, albeit, without the fun custom head covers Scotty churns out. Both club makers rarely put out a clunker, and the latest Vokey (the SM4) is no exception. In the SM4 series a customer can get almost any bounce/loft/lie combo they can dream of. The new Vokey is also available in the standard chrome and black nickel finishes that most other companies also offer. However, as always with Titleist, customers also have the oil can finish available as an option. You want something less 'off the rack' and more custom, Vokey can do that too. Order from the Vokey shop (for a significant upcharge) and BV (or his apprentice) will stamp your wedge for you with almost any non-vulgar phrase or lettering you desire.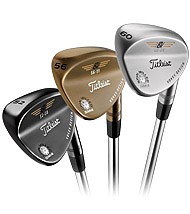 I love everything about these and being someone who will need to buy new wedges next year before I play in any state amateur events (2009 tour rule in effect January 1, 2014 for amateur competitions) the SM4 will likely be what I purchase. They have the cleanest look and perform at the highest level. Yes, I'm a bit biased to anything Titleist, but I truly believe these are the best all-around wedges in look, feel, and performance.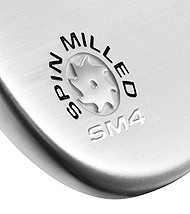 What's the knock on them? For me, nothing. Yet, they aren't for everyone. The heads on the SM4s and most other Vokeys are a little on the small side. That can make using them a bit demanding and should scare the more casual golfer away from them. Consulting a professional when purchasing a Vokey is a must. If you don't get the right bounce/grind combo the club will never perform how you need it to.
Grade: A (teacher's pet)
So there you have it. Tis the season for buying wedges, and with the new groove rule becoming effective for most of us soon, I'm sure many of you will be purchasing wedges too. My advice? Try what looks good, then select what feels good and put it on your Christmas list. Maybe Santa will slide one down the chimney for you.