He Could Have Won By Ten 
Golf fans of the Western Hemisphere woke up on Sunday morning to find out that Dustin Johnson had won the first WGC event of the 2014 season. The HSBC has always been an event that attracted a decent field, mostly via appearance fees, but this year's edition being a true PGA Tour event brought out the big guns in full force. Rory McIlroy, Keegan Bradley, Luke Donald, Graeme McDowell, Phil Mickelson and Jason Dufner were all in the star-filled field. I presume the tournament's new standing is why it's eventual winner was also in China playing golf.
Dustin jumped out of the gate with a 69 and trailed Rory McIlroy by a few strokes through 1 round. He made 10 birdies on his way to a 2nd round 63 and took the lead into the weekend. On day 3 he went out in 30 shots on his front nine to begin his round just as he did in round 2. A double at the 10th cut his lead briefly but he bounced back with four consecutive birdies on holes 13 through 16. At that point the fat lady should have been called because this thing should have been over.
However, that's just about when Dustin Johnson pulled a 'Dustin Johnson'. On his 54th hole, DJ rinsed his tee shot into the middle of the lake that protects the landing area off the tee. His bookend double bogies on his back nine brought the field back into the tournament. Ian Poulter now only trailed by 3 and Johnson could see him in his review mirror.
Shot Of The Week
In the final round Johnson had plenty of pursuers trying to chase him down. Sergio went out early to post a 63. GMac was going low, as was Poulter playing in the group with DJ. On the short par four 16th Johnson put the field to bed by drilling a tee shot close to the green and making his pitch for eagle. This was the shot of the week.
DJ's victory gives him two in the calendar year. He won his first start of 2013 in Maui at the Tournament of Champions. Thanks to the tour's new goofy wrap-around schedule, he's now also won his first start of the 2014 season. He called it the biggest victory of his career. I can't agree with that. He's won at Pebble and won a Fed Ex playoff event. Those aren't low level tournies to bat an eye at, but those (and the TOC victory) were weather shortened events. The HSBC had a strong field, albeit Tiger-less, and DJ played great. If he wants to call this the biggest of his career to date, so be it.
Mrs. Johnson Time
Usually any kind of tournament in which DJ plays well equates to several pictures of the future Mrs. Johnson being posted on this site. Unfortunately for all of you, she's been a bit neglectful of her Twitter and Instagram accounts since the victory. However, Stephanie Wei took the shot on the left (below) of the happy couple in their moment of bliss. Perhaps that'll get you the fix you crave. If not, just go back two posts to see her with the in these.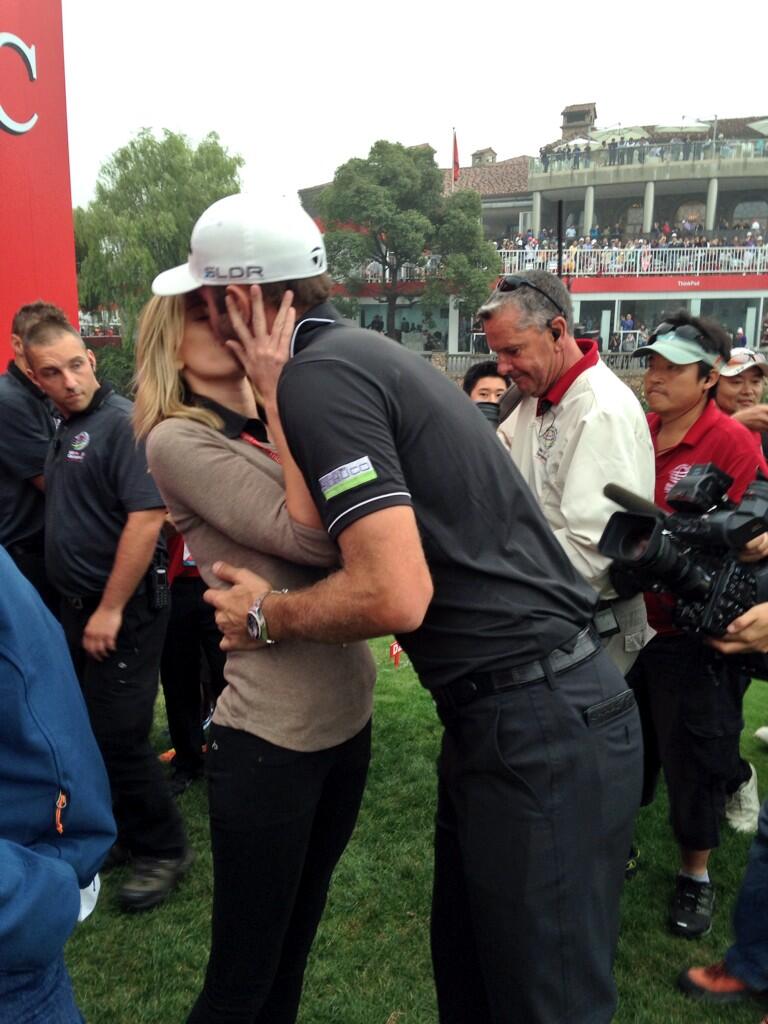 Am I the only one that sees the humor in the fact that her name will actually be Mrs. Johnson? Paulina Johnson. That's priceless. It also sounds like a good porn name.