American Gothic Golfer
There's no truth to the rumor that Hugh Hefner changed his Halloween costume from Robin Thicke to Arnold Palmer. The image you see below is the King himself with his friend, supermodel Kate Upton. Of course, this site has detailed the King and Upton's relationship since it's inception, but now what seemed like a one time meet and greet has turned into a series of sweet grandpa/grand daughter moments.
Oh, yuck….who the fuck am I? Did I just write that? The GIF of Arnie swiveling his hips like his Viagra just kicked in is from a recent golf publication cover shoot. They're obviously trying to replicate the famous American Gothic painting (that's a farmer and his daughter, so the Upton/Palmer replica works, FYI). You didn't see a basic art history lesson coming your way when you decided to click over here today, did you?
The major golf rag producing the shot above is featuring Kate in their upcoming issue. Why? What does she have to do with golf, you ask? Nothing, but she is friends with Arnie and has great tits. That sweater meat sells magazines. This is a fact. Remember in April when Golf Digest put Holly Sonders on their cover? Their reason? Tits. That's it. Do you think the typical 58 year old, white male, 14 handicapper that picked that issue up at a Hudson News read Holly's fitness tips? No. He drooled while looking at her ass, camel toe, and bolt-ons and used the images to hit it out of the park the next night with the wife. Hopefully the poor bastard didn't splooge on Johnny Miller's bunker tip on the following page. Hey, kudos to the folks at these publications for figuring out what was apparent to me 10 days after creating this site. Golfers like to see boobs.
Case Of The Mondays
Mondays suck for most of us that have to drag ourselves back into the office and come to the realization that we only have 28,542 days of work left to retirement. For Tiger Woods, Mondays are typically off days in which he takes another big check to a bank and bangs a few hookers. This week, TW's Monday sucked, but in a different way. As you recall, Woods played in an exhibition match that was the brain child of Ahmad Rashad. For $2 million Tiger went to China to take on fellow $woosher Rory McIlroy (a.k.a World Number 6). He still got a big check, but lost the match by a shot.
Losing sucks, but having to hang with Ahmad in between shots for over 3 hours killed his day before he even got out of bed. Later that afternoon news broke that Electronic Arts would no longer feature Tiger Woods in their franchise of golf video games. EA Sports has been making a PGA Tour game for close to 25 years. Yes, it did exist before Tiger was even a professional. Tiger has been the featured star of the game (with several other tour members making cameos) for 15 of those 25 years dating back to 1998. In the years that Tiger's name has been on the label the franchise has grossed nearly a billion dollars.
But as with all things in life EA felt it was time for a change. After all, Tiger's name isn't the reason gamers are still buying the product. The graphics produced now are very life like and the designers have incorporated more tournaments, courses, and the ability for you to swing a joystick like a club in your living room and hit the ball down the fairway like a pro. Who needs Tiger with all that, especially at the price tag he commands to put his name on the product.
EA Sports likely won't make a game for the coming year anyway. They're working on a new version that will be playable on the next generation of video game systems, most of which aren't available to the public yet. In recent years' editions of the games have allowed you to create golfers by scanning images of real people into the game. From there the game births a golfer that resembles the person in the image you provided, and you can edit clothing, hairstyles, sponsors, shoes, etc. from there. If you find yourself in need of a Tiger-like experience on your gaming console beyond 2013, just scan a picture of TW and poof – you'll have a home made version of Eldrick Woods.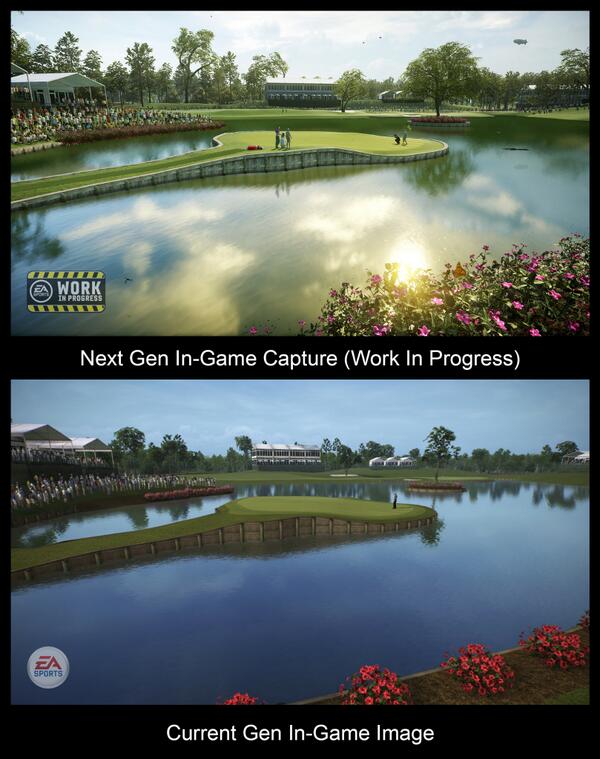 I think this could be the shot in the arm the franchise needed. Tiger was the first name put on the box, and that was huge. Then EA added the Masters and Augusta National, BOOM! Another franchise changing upgrade. I can't wait to see what is next, even if it doesn't involve Tiger.
Not-So-Happy Halloween
Don't read anything into that. I love Halloween. What could be better than a night in which girls dress like sluts and guys get drunk and are allowed to ogle them with no repercussions. Halloween Parties? Even better. Kids in costumes. Awesome. Great Pumpkin Charlie Brown on network TV, that's what I'm talking about.
So why am I down on such a great holiday? Halloween marks the official end to the golf season for more than half of state golf associations handicap season. Yeah, that's why. Come November 1 only the Sun Belt associations will continue to keep your scores and adjust your handicap with bi-monthly revisions.
I really don't give a shit that my handicap won't change. It's the bigger picture that gets me. The season is ending. Yes, I'm a die-hard and I'll play until it snows, but it's not the same. After Halloween there are no more two man games, $5 Nassaus, or even mid-week trips to the range. Golf will soon be gone for most of us, just like that…….nothing. Slam the door. The season is over. Damn it.
Well, now that I've depressed you, enjoy the Tiger-less HSBC in China, another weekend that you might get some golf in, and get wicked drunk for Halloween. And don't forget, the Shutter for WAG of the Year is still looming.