Two In The Pink
The 2014 PGA Tour season continued this weekend with or without you paying attention. The tour has now officially left North America for a few weeks to play the CIMB Classic in Kuala Lumpur and the WGC-HSBC in Shanghai. Every pro and their brother has tweeted some obnoxious travel story about their 15 to 25 hour trip to the far east. Ummm……dudes, we don't care. You're getting paid well to make the trip and play golf in nice weather while autumn here in the U.S. gets a bit chillier by the minute. Suck it up!
The first leg of this two week Chinese fire drill was delayed several times by weather in Kuala Lumpur. The final round was completed just before dark, but Gary Woodland and Ryan Moore were left tied at the end of 72 holes. They'd have to wait until Monday morning, local time, to decide the winner via a playoff. The good news for golf fans in North America was that these two Americans would tee it right smack dab between the afternoon and evening NFL games on Sunday night. Perfect.
Moore and Woodland both found the fairway on the 1st hole swinging conservatively off the tee. Playing a wet 634 yard par 5 both were still around 150 yards away for their 3rd shots. Woodland missed the green while Moore flagged his for a tap in birdie. Game, set, match for Moore. According to the Golf Channel's Jason Sobel, this was Moore's 3rd career win.
Yes, you read that right. Mother-humping pink pants. With guys like Poulter or Fowler you might expect this. Moore isn't known as a flashy dresser like those two, but he's been known to don a cardigan and tie while he plays. I believe he also has some stock in his wardrobe and shoe companies that endorse him, so perhaps they're pushing pink for their spring lines. I don't know. It is October, is he supporting breast cancer research like the rest of the world for these 31 days?
If he's wearing these for the cause, I'll give him a pass, but anything else and he should be lambasted for that decision. Pink and purple, those are soft colors any man can wear on the golf course…..on their shoes, shirts, hats, bags, etc., but not your pants. For Moore this is merely exhibit number 437 helping to prove to us that he ticks a bit differently than everyone else.
Let's Talk About The Elephant In The Room
No, seriously. Look at Paulina's latest from Asia with fiance' Dustin Johnson.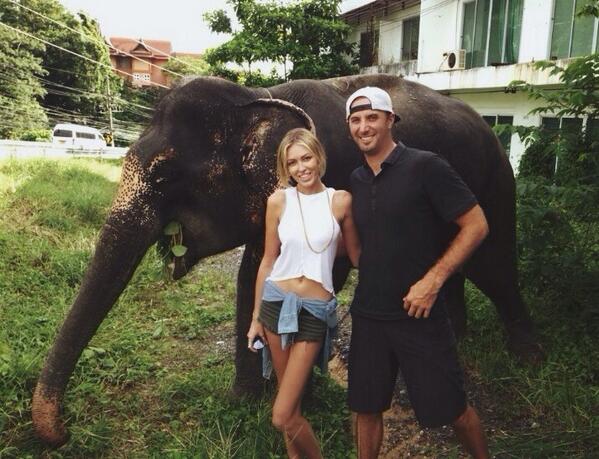 Ms. Gretzky appears to be having quite a good time on her tour of the Pacific Rim. These two lovebirds spent a week in Australia before traveling north to more exotic locations. PG (ironic initials, aren't they?) is letting us all know what she's up to via Tweets and Insties. My favorite from the trip is the one I've shown below of her with a large pussy cat.
I have a feeling that's not the first time she's dressed slutty to get a Tiger to notice her.
Tiger + Rory = TV Gold
In theory it does, but the two mega stars of the game won't be on TV when they face off around midnight on Monday morning. Yeah, no shit. I'm not sure who at the Golf Channel is asleep at the wheel to not have this on their air. What I do know is Ahmad Rashad is a producer of the exhibition. I also know that Rashad was let go by TGC when they finally realized what we already knew, which is, that he's a stiff on their Morning Drive program. Perhaps it's that simple. Ahmad took his ball and went home. Perhaps it's the geniuses at Back9Network.com that ponied up enough money for the rights to air the match.
That's right, Virginia, there is a Santa Claus. The good people of the Back9Network will be airing the friendly match between McIlroy and Woods played in the middle of the night on the other side of the world. If you're up for it, hit a link below and get over there to watch the spectacle.
EDIT: PGA Tour won't allow the broadcast in the United States. Use the first link if you're not in the U.S. and second link if you are in the U.S for instructions on how to watch.
Tiger v. Rory – The Rematch (Brought to you by Ahmad Rashad)
Who Knew Kenny Perry Had That In Him?
Senior golf typically bores the shit out of me, but there it was at the beginning of the recording I'd set up to catch the CIMB finale on my DVR. Kenny Perry versus Bernhard Langer on the green putting to end their sudden death playoff. Perry drilled the putt and won some bullshit tourney for old men in San Antonio that is sponsored by AT&T. Good for him. Before the putt dropped TGC flashed to a blonde standing green side anxiously awaiting a winner.
As it turns out, that was Kenny Perry's daughter Lindsey. She'd just been married and her wedding not only caused daddy to fork over some dough to pay the bill, but it also made him miss two events on tour this year. Damn kids! When Perry won she of course ran on to the green to greet and hug him.
Yes, I purposely gave you the ass shot. That's why you read me.
She's alright……and…… surprisingly good looking for what you'd expect Perry's DNA to result in. Now, to do my due diligence I of course Googled "Kenny Perry's daughter image" and was even more surprised. SHE HAS A SISTER! Wait, it gets better. Her sister is an NFL cheerleader! Way to go Kenny!
That's Lesslye Perry and she is an employee of the Tennessee Titans.
Kenny, Kenny, Kenny, Kenny……as the father of daughters you only have a few parenting 'musts' in life. One, don't let her marry a douchebag. Two, keep her off the pole. You can't let your little girl become a stripper. That's on you if it happens. Three, don't let her be an NFL cheerleader. That's barely above a stripper. Plus, what do you think a typical NFL cheerleader does in the off season? Sorry Mr. Perry, but it looks like you're only batting .500 for fatherhood with regard to your two daughters.