While You Were Sleeping
With little acknowledgement from the major golf media outlets, the USGA conducted it's 33rd iteration of the United States Mid-Amateur Championship this week in Birmingham, Alabama, at the venerable Country Club of Birmingham. If you're not familiar with the mid-am, it's the USGA Championship that is played by golfers over 25 years of age with a handicap less than 3.4. Qualifying rounds are held all around the country and then a month or so later 240 some qualifiers ascend on to the host site to play 36 holes of stroke play competition. The low 64 make it to match play where eventually two men play a 36 hole final for the Championship.
Why should you care? Because the champion of this event is always invited to play in the Masters the following year. The Mid-Am was born in the early 80s as a way to eliminate hoards of college players from a championship and to have a unique competition that catered to the post collegiate amateur instead of the flat-bellied college boys that eventually turn pro. This is the USGA's way of upholding Bobby Jones legacy as a true gentleman amateur. Henceforth, the main reason Augusta National invites the champ to their invitational (which, as I wrote in February is becoming just a bit more rare). The mid-am trophy is also named in Jones honor.
The slightest wet dream thought of making it to Augusta as a competitor is why so many mid-ams like myself (a.k.a. working stiffs) attempt to qualify for this championship. I carry an index of about 1, so I'm eligible, but I have a better odds of being struck by lightning twice while nailing Kate Upton in her ass and during a rusty trombone from Paulina Gretzky than I do of winning the U.S. Mid-Am and playing in the Masters. Yet, every spring I search through the qualifying sites, pick the one that interests me the most, and gladly pay my entry fee so I can dream for a few months that this could actually happen. Alas, I'm 0 for 9, with a few heartaches and a few total debacles in my efforts.
Some day….some day…….
Quit Your Day Job
On Thursday as the PGA Tour was preparing to start its 2014 season, Mike McCoy was waking up for his 36 hole match against Ohio native Bill Williamson knowing a date with the Masters was on the line. No pressure. The insurance man from Iowa had lost in the final once before.
McCoy is a regular at many big amateur events, including the recently held Crump Cup at Pine Valley in New Jersey, the Coleman Invitational at Seminole Golf Club in West Palm Beach, Fla., and several other major amateur competitions such as the Porter Cup, Western Amateur, Northeast Amateur and Sunnehanna. He's played in almost half of the U.S. Mid-Am ever played and 38 USGA Championships combined. He's also played Augusta before as a guest. Out of pure jealousy, that golf resume almost makes you wish the guy was a complete bag of dicks, but by all accounts, he's not.
After a triple bogey to start his day, McCoy took charge winning 3 holes in a row on his opening nine. He stretched his lead from 3 up to 5 up winning the last two holes of the morning 18. There was no turning back and his opponent knew it too. McCoy eventually put his opponent to bed on the 30th hole of the match for an 8 & 6 win.
By that picture and his back story you can tell that McCoy is no spring chicken. He's 50 years old and is the 2nd oldest Mid-Am champ next to Alma, Michigan's Randy Lewis who won in 2011. Mike's win gives him a 10 year exemption into the Mid-Am, a two year exemption into the U.S. Amateur, and a spot in the field at Augusta. That's pretty sweet. Congrats Mr. McCoy. Well played. I hope to see you at Saucon Valley next September.
Site News
Nothing big here, but a promise is a promise. I gave you guys that great pic of Phil, Duf, and Tiger last week and asked for a caption contest. My winner: reader Billy Batts. Congratulations Billy, your fully quoted caption is shown below.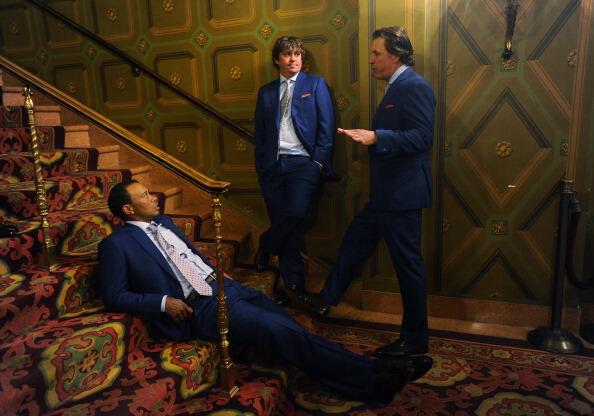 Tiger: "Phil, you're looking pretty good in that suit. Do you mind if I tittie fuck you?"
Dufner": "I make sure no one sneaks up on you guys."