USA! USA! USA!
It's a little harder to get all patriotic and shit over the Presidents Cup. After team #Merica's wins in seven of the first nine iterations of it you almost want to root for the international players just to make it close. Besides, the International guys aren't generally players you can't root for. With a few exceptions, you see them play on tour most other weeks of the year and are familiar with their faces, games, and back stories. The fact that Vijay isn't on the squad and the guys that are playing aren't annoying cock suckers like Sergio and Ian Poulter makes the Presidents Cup feel more like your club's member-guest invitational. There isn't any animosity and gamesmanship either, these guys play with sportsmanship and class. How boring.
None of that goodwill, sportsmanship, or class was missing in the 2013 rendition of the Presidents Cup. Yes, the International squad made the finish just a little bit more interesting than it first appeared they would, but the outcome wasn't ever really in doubt.
Weather Or Not
The only thing in doubt on Sunday morning in my mind was whether or not they'd be able to finish on Sunday. Having had weather delays each of the first three days, the PGA Tour decided they should move up the Sunday tee times to try to get golf in before the heavy stuff came. The radars that I saw showed a lot of green nasty stuff heading for Columbus that could possibly last all day.
Moving the times up did result in the matches being allowed to finish and only minimal amounts of rain fell during play. As it turns out, the closing ceremonies were cancelled and the skies opened up to dump more moisture and violent storms on the Columbus area before Sunday ended. Yeah, that's right, no closing ceremonies meant no Kenny G concert. What a shame.
The cooler temps and excess H2O didn't end up damping the fans exuberance. Ohioans showed up in full throat all weekend long to imbibe in shots of red, white, and booze. Kudos to the fans for hanging in there and making the best of it. They stuck it out through some nasty stuff to watch some great golf and they were rewarded. They're either diehards or needed a reason to get hammered.
How It Went Down
Graham DeLaet's big week ended with a splash. His hole out from the bunker at 18 won his match against Jordan Spieth to give the Americans a slight scare. The scoreboard all of a sudden wasn't so lopsided, but there was Tiger. Only a few holes back, Tiger was struggling with his game and his aching back for most of the day. On his 2nd shot on 15 Woods faced an uphill lie while trying to knock a 5 wood on to the green. Woods stretched his lower back repeatedly in the fairway before it was his turn to play. As he struck the ball he grimaced in pain and nearly knocked his shot in the hazard well to the right. He made par and, luckily for Woods, Richard Sterne couldn't get his head out of his ass to jump on Tiger when he had the chance.
Sterne played average early in the match and Woods' poor play left him in a slight deficit, but Tiger loves a comeback story. Woods eventually righted his ship and put Sterne away to win the clinching point for team USA, just as he's done at the last three Presidents Cup matches.
Shot Of The Week
Just three weeks ago I called Zach Johnson's game of wedging it close and making every putt boring. What do I know? ZJ had the shot of the week at the Presidents Cup over the weekend when he slammed the door shut on his opponents in foursomes by holing out from 117 yards on the 15th hole for eagle.
Johnson was paired with Jason Dufner in this session for their alternate shot match. Because of their huge lead, the match was about to be over no matter what the outcome of the 15th hole was. Zach and Duf-daddy were up 3 with only 4 holes to play.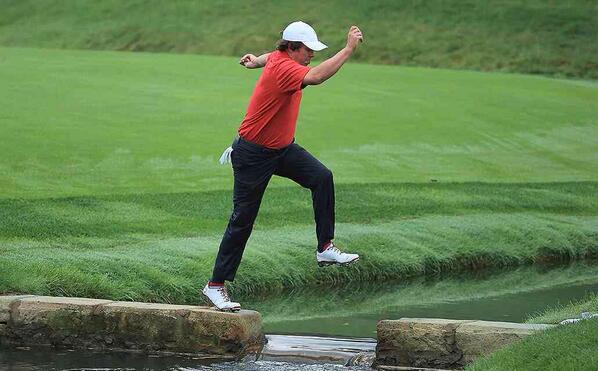 Their International opponents of course had a shot to try to halve the hole after the slam dunk by Johnson but failed to do so. One more point for team USA courtesy of Mr. Johnson and Mr. Dufner.
Man Goo Everywhere
We saw some interesting celebration and handshakes from American duos on Thursday in Columbus. As noted in my previous post, Matt Kuchar and Tiger Woods' Fresh Prince of Bel-Air celebratory routine was the headliner. It's hard not to notice that Keegan Bradley and Phil Mickelson started a little bit of their own thing as the week progressed. I don't think it had anything to do with the fact that they wanted to show up Kooch and Woods, but had everything to do with the fact that these two just really enjoy playing and competing together, making birdies, and slapping each other on the ass.
The comradery is fun to watch and I'm sure it is contagious to their American teammates, but it does grow a little bit old when they ass grab on every green. Plus, Phil is now a 40 something year old man. Ass slapping a kid in his 20s is a little Michael-Jackson-creepy, isn't it? I suppose it's hard to argue with the results. These two shot a 30 on their front nine in foursomes (alternate shot) play. That's incredible. If they did that to Europe in a Ryder Cup I wouldn't care if they went full gay on each other as they walked off the green. #justwinbaby Do you think Phil is the top and Keegan is the power-bottom?
Next Up For Fred
Immediately after the matches were completed the media asked Captain Couples about leading the 2015 team into battle on foreign soil. Fred said he's done, period, and noted that he didn't want to put his perfect 3-0 record on the line. That is the logical move and I think it's time for someone new in the Presidents Cup captaincy blood lines. So what does this mean for Freddie?
Going 3-0 in the #PrezCup is impressive, whether you discount the depth of the International teams or not. I think the PGA of America should give him a shot at the Ryder Cup. His laid back style clearly works in this format and the players respond to him. I don't usually agree with some of the strategy he's used in pairings, teams, and order, but he's 3-0 and I'm typing shit on a blog…..therefore Fred wins. Who do you have that is a better choice? After Tom Watson's reign is over in 2014, call Freddie and give him the nod, he's earned it.
Who do you replace Fred with in the Presidents Cup? Great question. In two years you might be seeing so little of Steve Stricker on the golf course that he could be ready to captain the team. The problem is, you need to name a captain fairly soon and you can't take a wait and see approach to guys that might still be trying to make the team as a player. My pick would be Tom Lehman. He's been an assistant captain and he's a major winner. Who would you pick?
We're Going Streaking!
If you only watched the NBC broadcast, thanks to the delay, you might not have known about the streaker that got loose on the 18th hole during a crucial match. As Steve Stricker and Ernie Els got to the 18th hole a semi-naked woman (pictured below) took off from the tee area down the fairway. She raised the U.S. flag and yelled "STREAKING FOR STRICKER!!!" Steve said he was flattered and his wife was amused. He first thought about tackling her, but then 2nd guessed himself. Smart move, Strick.
Reports from the course were that she had some pretty good speed and moves, but small tits. The cop nearest to her on the tee tried to follow her but gave up after about 20 feet. She zigged and zagged as she made her way closer to the green until law enforcement finally gang rapedtackled her, covered her with a jacket, and escorted her off the grounds. Good stuff. There's no truth to the rumor that she did this as some form of protest for cruelty towards squirrels.
TV Time
I've bitched and moaned all season long about the various networks and how they cover a tourney, what I like, and what I think they could do better. I'll try to spare you from some of that here in this post. When you consider the weather, the various delays, and the margin of victory the U.S team appeared to be cruising to you have to give NBC pretty high marks for how they covered the 2013 Presidents Cup.
The Peacock's coverage included superb graphics that showed the hole and how each player would approach it and what options they had. They did a pretty nice job of following each match as it progressed through the golf course, but lost a few singles matches in the shuffle once all 12 were being played at once. They also did a poor job of getting distances for shots the players were hitting and what clubs they were using. I think this would have particularly interesting because of the change in weather and course conditions. I know when it's about 60 degrees and the course is soaking wet I typically need some extra club and it would have been nice to hear that Steve Stricker was only hitting his 7 iron 166 yards on a specific shot instead of 185. We might have all felt like these tour pros are a little more human with that kind of data.
And Johnny Miller, well, he did what he does. He called some guys chokers, questioned why they did things that they did, and told us nearly every thought that popped into his head. His rip of Phil hitting his lay up 30 yards off line on 14 on Sunday was pure comedy. Yet overall, he was pretty good, as he usually is in my opinion. What he annoyed me with was his overuse of the word 'cruiser'. At various times throughout the weekend Johnny referred to a put as a 'cruiser', implying that it had pace or should have pace on it coming down a hill, breaking a ton, etc. Miller used it about 20 times on Sunday afternoon alone. Get the man a thesaurus.
What Miller did pick up on early and hammered often was the fact that Jason Day is just too fucking good to have only won once on the PGA Tour. He's absolutely right. Miller was asked about break out players that will use success from these matches as a springboard for theirs careers going forward. Jordan Spieth is an obvious answer to that, as is impressive Canadian Graham DeLaet, but Day is the obvious answer. Day played fantastic in nearly every session in Columbus and Miller took notice. Johnny went on to say how Day often plays well in the biggest events and that he is shocked Day only has 1 win. He expects that to change and I whole-heartedly agree, Jason Day is going to have a monster 2014.