Wow. What else can you say? That's a full day, a heck of  a day in Columbus on day 1 of the Presidents Cup. Step back, catch your breath, and lets try to get a handle on what we just saw.
Is That A Squirrel In Your Pocket Or Are You Just Happy To See Me?
When play got under way this morning in Ohio, vice-captain Davis Love III (yes, the same guy who lost the Ryder Cup for the U.S. last year) heard the gallery starting a commotion while watching a match near the 2nd green. When Love strolled over to see what the fuss was about he was alerted to the baby squirrel that had fallen out of a tree. He picked it up and carried it around the rest of the day. Love told the media that his family had a tradition of picking up sticks while watching him play. If he played well they'd keep the stick. The American matches which Love followed with his good luck charm were all winning and making birdies, being superstitious DL3 decided he'd keep the little critter around for a while.
This isn't a joke. That image above isn't photo shopped. I can't make this shit up. Love literally put the little guy in his pocket, carried him around all day, fed it, etc. Then after the Woods/Kuchar match had finished he rolled up on Lindsay Vonn and offered to show her what he had in his pants…..you know, the fury…….ummmm…..squirrel. Vonn warmed up to the fellow nut lover and put him on Tiger's back. The scene was surreal.
The over night whereabouts of the lucky squirrel are unknown. There's no truth to the rumor that Vonn only had interest in it as a snack. Don't put any meat in front of her when she's hungry!!!!
What's Next, Merkins At The Masters? 
You know this isn't the Ryder Cup simply because there isn't enough stress or tension for most of these guys in the matches, especially on Thursday. What makes it more obvious is when half the South African contingent on the International team shows up to the first tee for their match with Keegan and Phil in giant wigs.
I still haven't heard the story as to why these two thought this was a good or fun idea. What's with the sets of chompers on these two while we're examining them? And those pants?  Captain Price must not believe in the look good, play good (proper grammar would be 'play well') theory.
Fresh Prince Of Sea Island
Matt Kuchar and Tiger Woods won 4 consecutive U.S. Amateurs from 1994 to 1997. TW of course had 3 of them, but that is beside the point. They've also both won the Memorial on Jack's Muirfield Village track. Their match play history and familiarity with the course made them a heavy favorite in their four ball match on Thursday. Kooch and Tiger didn't disappoint and won their match 5 &4 over Angel Cabrera and Marc Leishman. Somewhere along the way they decided to have a little fun and showed the fans their predetermined touchdown celebration. That's a flag for 15 yards in football, but in golf it's fun, and the fans ate it up.
If you can't tell from the GIF above, that's Matt and Elrick's attempt at the Fresh Prince of Bel-Air handshake. Kuchar late referred to Woods as his Carlton. Two things are wrong with that. First, it is slightly racist. Second, Carlton didn't do that handshake, JazzyJeff and Will Smith tortured America with it for six seasons. 
I never thought I'd post a clip of that on this site, but I guess that is the beauty of the internet. Clearly those two were having fun, and when you're making 9 team birdies in 14 holes on your way to kicking your opponents ass, well…..you should be having fun. I'm not sure about the merkins…..errrrrrr….wigs, or the squirrel……but more fun like this in the Ryder Cup would go a long way to the Americans claiming victory next year. Think Boo Weekley, 2008 Valhalla, riding the bull….feeling the flow.
Captainess America
How is it possible that I'm only today finding out that Freddie Couples has serious piece of ass for a girlfriend? Is it because we see him in all his Bridgestone commercials that make it appear that he nails random chicks in art galleries? Maybe I'm not watching enough of the Champions Tour? Whatever the case, Couples' bedroom buddy was on the 1st tee with him today sending his squad out in to battle. 
Her name is Nadine Moze. That's all I know about her, well, that and she seems to be pretty chummy with Lindsey Vonn. Perhaps you're thinking to yourself, nahhhh……she's not really that hot, she just looks hot standing next to that cow Woods is slumming it with. A closer less clothed look tells us more. 
Come on, he's Fred. Of course she's hot! I may not agree with Fred being in the Golf Hall of Fame, but he's a 1st ballot member of the Pulling Ass Hall of Fame.  
Actual Golf
Adam Scott and Hideki Matsuyama were 3 down with 4 to play in their match before they stormed back to gain a halve with thrilling shots like Scott pitching in for eagle on 15 and Matsuyama hitting his approach on 18 to a few inches.
In the match just ahead, Jason Day birdied 18 on a bomb of a putt to give the International team its first point of the matches. Scott's match was big, and Day's birdie won a point, but the scoreboard showed U.S. flags leading every match still in progress.
Scott and Matsuyama gaining a halve took half a point off the board for the U.S. and helped stymie American momentum. A 4 to 2 score would have felt just a tiny bit more defeating for the International team to sleep on. If things are tight on Sunday, remember that match and Scott and Matsuyama's efforts.
For more day 1 highlights and a side of Amanda Balionis and her tits, click here.
Caption Contest
After last night's opening ceremonies Tiger, Duf, and Phil were caught lingering around a set of stairs and this image was taken.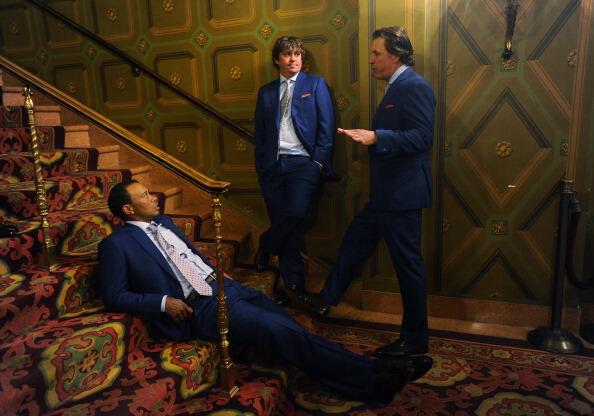 That is an absolute classic. You know FIGJAM was pontificating some bullshit about a bet he made, a wedge shot he hit, or some wonderful father of the year moment he had with his kids. I'm not sure Tiger wants to hear it and I'm not sure Dufner is hearing it. Whatever the case, the photo is brilliant. Now lets have some fun with it. Give me the best captions you can, photo shop it to add word balloons, whatever you want…..leave your art in the comments and I'll pick a winner and display their caption in my next post.
Good luck, and enjoy day 2.