Fuck You Freddie
Message sent, right? That message being a big 'fuck you' to Prez Cup Captain Fred Couples for not picking Jim Furyk for his team 10 days ago. It is Friday, so I'll forgive you for missing it. This afternoon at the BMW Championship Jim Furyk went off the 10th tee and shot a 28 on the back nine at Conway Farms. His 8 under tally included an eagle that he holed from 115 yards on the par four 15th.
Jim said in his post round presser that when he made the turn he tried to forget about what he just did on his first nine and focus on the next nine holes. Shooting 59 was definitely on his mind and his mindset was to think only about and shooting something reasonable, like 4 under for that nine. I suppose that is a less overwhelming way to approach it, but it sounds too simple. With 3 straight birdies on holes 2 thru 4 things were looking good for Jimmy, then a three putt bogey at the 5th meant he'd have to birdie half of his remaining holes to hit the magic number.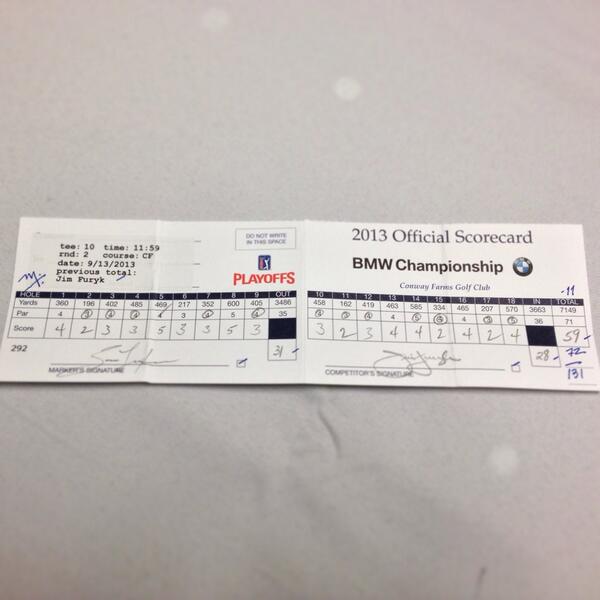 On the par five 8th he was greenside in two with a funky stance/lie in the side of the bunker, in the grass. He popped it out to 16 feet but missed. He now had to birdie the ninth for his 59. Furyk split the fairway off the tee and stuck a wedge to 3 feet. The crowd erupted and some Babba Booey even yelled to Jim that he'd concede him the putt. In the presser Jim reflected on his short putt in the rain at East Lake a few years to win the Fed Ex Cup and $10 million dollars. He said it felt similar and he used that positive memory to knock his putt for 59 in the hole with ease.
Jim's highlights from his round are included in this package, with his eagle beginning at the 1:17 mark.
Furyk becomes the 6th man to shoot 59 on the PGA Tour. More men have walked on the moon. Jim joins Al Geiberger, Chip Beck, David Duval, Paul Goydos and Stuart Appleby as the tour's Mr. 59s. Jim signed his glove from the round and sent it off with a PGA Tour media official to go to the Golf Hall of Fame. He signed of few of the balls he used too. One went to his caddie, Fluff, while he kept the one that found the cup on his last stroke.
Think about this for a second……Furyk beat world number 3, Rory McIlroy, by 18 shots in this round, one shot per hole. Rory posted a 13 over par 36 hole total of 155. His season is effectively over and he won't be headed to Atlanta next week. I hope he and his Swoosh contract are please with his lost year.
Back to Furyk…..I said it here over and over again, it was easy to see.  Furyk's game was rounding into form and he and Jordan Spieth were the obvious American Presidents Cup picks with all the evidence laid out in front of you. Couples couldn't get past the fact that Webb Simpson got bounced from the 10th spot on a putt made by Zach Johnson on his last hole at TPC Boston. It didn't seem fair to him. Well, maybe Webb should have played better all year Fred. Sure, I could be dead wrong. Simpson may end up making a crucial putt to clinch victory at next month's matches at Muirfield Village. But who says Furyk wouldn't make the same putt? Bottom line, Fred gooched the pick and this only helps to prove it.
Oscillating Eldrick
Tiger Woods of course is also playing in the BMW Championship this week in Lake Forest, Illinois. Woods appeared to be in contention to start the day after shooting 66 on Thursday. On Friday Woods found the fairway on the 1st hole, but flew the green long and left on his approach. His ball came to rest in a bare area under several trees. He removed some loose sticks from around it, his next shot and missed the green, then flopped his next one on and two putted for what appeared to be a double bogey 6 on the easy par 4. Of course he was steaming from that, but TW recovered from and went on to finish his round 1 under par and remain in the top 5 on the leaderboard.
After Tiger walked off 18 tour officials informed him that they had video evidence of his ball moving when he moved the loose sticks around it before playing his 3rd shot on the first hole. Check the footage below:
I've watched it a few times and I still don't see it. Tiger was adamant that the ball didn't move, only oscillated, but the tour and the video had the final say. I'm not sure I understand that. Isn't it on Tiger to call it on himself? If he didn't see it, there's no penalty. Done. Dead issue. The worst part to me is that this wouldn't have happened to any other player. The fact that Tiger is so popular and such a dominant presence in the game is why there was video being take of him playing this shot in the first place. Why should he be at a disadvantage of having every shot he takes put on camera where a viewer can call in and assess him with a penalty? Total bullshit. Even better, it was the actual dip shit filming the ordeal that informed the tour of the mythical infraction.
Tiger was given a two shot penalty, his 6 became an 8 and his 70 became a 72. As if Tiger's Friday the 13th could have got any worse…..the changed score moved him back far enough from the leaders that he now will be paired with old pal Sergio Garcia in round 3. Fan-fucking-tastic for us. More bullshit for Tiger. Tiger haters rejoice. You've won the day.