The Reeds Knock Off Spieth To Snag Wyndham
Patrick Reed kept knocking on the door to the PGA Tour and the door kept being cracked open just enough to let him stick his foot in. Last year Reed Monday qualified a handful of times and made cuts in most of the events he got into to get himself noticed. His fellow competitors started calling him Mr. Monday. After surviving Q-School Reed got his shot at the big boy tour in 2013. His game warmed up late this spring and Reed's name started showing up on the 1st page of leaderboards. He kept poking his head around the lead late in to several weekends and today he kicked the door down and proved he belonged. To get that first win all he had to do was perform a minor miracle on the 2nd hole of a playoff against uber-rookie Jordan Spieth.
If you're a regular reader of this site you likely recall my comments about Patrick Reed and his caddie wife after St. Jude early this summer. By now most of you know their story, how she's put off her career to be on the bag, blah blah blah. For him to get his first tour win with her as his looper has to be special. In post round interviews, he was excited, but she was the one showing the emotion. The win of course gets Reed into next year's Masters, which means a ton to a kid that played at Augusta State in college. Mrs. Reed vowed that she'll be on the bag for that. For her sake, I hope she's not knocked up by then.
As for the golf, it was a little on the boring side until the playoff started. The weather forced the CBS B-team to record the 4th round play earlier in the day. Lucky for me, I stayed away from Twitter and didn't know the outcome. The main contenders to challenge Reed were Spieth, Johnny (Question Mark) Huh, and Zack Johnson. Huh needed birdie at the last to join the playoff fun, but couldn't get it done. Johnson got hot in the middle of the round but ran out of gas. Spieth was a group ahead of Reed and posted a five under 65 to get in the clubhouse at -14. Reed's 3 putt at the 16th dropped him to -14, and pars at the 71st and 72nd hole sent he and Spieth back to the 18th tee to start the fun.
Spieth's tee ball found the woods and he was forced to punch out to the fairway. Reed stuck his 2nd shot to about six feet while Spieth's 3rd shot was left some 30 feet away for par. Of course he canned it and Reed missed. Game on. The twosome moved to the 10th tee and this time Spieth found the short grass while Reed's ball lurked near the out of bounds and woods. Reed even hit a provisional ball, but his 1st stayed in play. Spieth hit his approach 11 feet and looked to have the upper hand until Reed's punch under the tree limbs landed 6 feet away and stuck. Good stuff. As they walked to the green, Spieth gave Reed a thumbs up for his stellar shot, then he missed and Reed made. Ball game.
The late heroics were fun to watch, but I took away two things from the Wyndham. First, never count out a tour player when they appear out of the hole. They're too fucking good. Second, Jordan Spieth is a force to be reckoned with. Think about his year for a minute. He began with no status on tour, then won enough money to become a member, then when that wasn't enough and the tour didn't want to give him Fed Ex points for some bullshit reason, he said "fuck it" and just went out and won because that's what he had to do to get full status and Fed Ex points for the current year. Now he's won and been in two playoffs, and played with a huge set of balls on Sunday afternoons to get into both of them.
I was texting about him earlier with a friend. We were debating his career and both somewhat agreed that he'd probably win 20 times on tour and that would include between 2 and 4 majors. That's a Hall of Fame career in golf and would rank him ahead of Davis Love, Jim Furyk, and Fred Couples. Are we over selling him? You tell me. It sure doesn't seem fair that he's ranked 54th in the world while Rory McIlroy is 3rd as of today.
DJ's Cock Ring
For some fucking reason Dustin Johnson decided yesterday to put a ring on Paulina Gretzky's finger and she said yes. The couple is ecstatic and is promoting the news all over instapoo, Twitter, etc. Apparently DJ decided that they needed to be linked for life from something other than herpes. Here's the pic.
Wait, no…..that's not the one. Dad must be proud of that……..maybe it's this one:
On one hand, that's a big leap into the royal family of Canada. DJ's got money, but marrying into Wayne's wealth means he'll never have to play golf again if he decides not too. He'll have "FUCK YOU money". On the other hand, they've got no shot at having a normal life together, so why try? Either way, congrats…..I guess. Now we have bachelorette party pics to look forward to, they should be epic.
How long do you think it'll last? I'll say less than 5 years, but you can weigh in by clicking on the poll I've provided below.
C.U.N(ext).T(uesday). Michelle
Ahhhhh……..the Solheim Cup. The every other year powder puff exhibition matches featuring the American ladies v. the European…….(cough) ladies. It should be an event that grows the game and grabs casual fans and attracts them to the wonderful sport we love. It doesn't. Not when you have to watch these whiny entitled girls in red playing (mostly) no names from across the pond. Especially not when the cup is decided before a tee is even put in the ground on Sunday. That's pretty much what happened when the U.S. team got skunked 4-0 on Saturday afternoon in the four ball matches.
And did team USA take their ass whooping with class and dignity? Nope. They cried, they pouted, they even walked off a green before their opponent putted out late in the round. Yes, I'm not shitting you. In a key match in which the U.S. team of Korda and Wie were (of course) losing, they made their putt thinking the Euros would miss and walked to the next tee to continue the match. Korda realized her mistake and stopped halfway to stand in the crowd and watch. Wie just kept on trucking. That's horrible. 16 hours later she tweeted an apology for her actions. How sincere. She's a piece of shit who's parents never taught her any sportsmanship.
The rest of the team, well, they're getting lumped in with Wie. Most of them are innocent, but players like Pressell and Creamer are just way too hyper and emotional when it comes to the Cup. Did you see Paula's reaction to the Euro team giving her a par putt she wanted to attempt so she could give partner Lexi Thompson a read? You'd think someone gave her a wedgie. She acted like an entitled brat. They gave you a putt, there's some gamesmanship in match play, deal with it. And the whole waving the hand thing??? I hear that was in response to Suzann Petterson commenting on the U.S. players painting their nails, putting decals on their faces, etc. They took Petterson's comment as an attack, but in reality they were just being catty sorority girls.
Paula also commented about having bad breaks go against them, like losing a match on a hole in one. Ummmm…..what? Your opponent makes an ace, that's not a bad break, that's you getting beat. Here was Anna Nordqvists ace that won an early match:
When Creamer lost to 17 year old Euro phenom Charley Hull, Hull asked Paula to autograph her ball. I didn't see it, but it had to be priceless.
It's great to be passionate and be a competitor, but Creamer, Wie, et al. are beyond that. They live and die with each shot, cry when they lose, and blame others for their failures. I was embarrassed for them and tweeted so.
Own your mistakes, own your failures, and rise above them. Easier said than done, but when your'e representing your country you have to be better than that. Some of this behavior has to be blamed on Captain Meg Mallon, she let them act this way and didn't put a stop to it. She also let her team get their ass kicked and then told the media that Europe putted and chipped better. No shit Captain Obvious. If you thought at all that your team was weak in these areas, there's no fucking way you pick Michelle Wie to be on it.
Amateur Hour
I didn't get to watch as much of the U.S. Amateur this weekend as I'd have liked. Truth be told, the American players bailing early caused me to lose interest. Once Scottie Scheffler lost I pretty much checked out until the last few holes today. From what I'm told, the British kid, Matt Fitzpatrick, putted lights out and put on a clinic in beating Australian Oliver Goss.
Goss and Fitzpatrick went back and forth in the early round which ended with Fitzpatrick having a 1 up lead. Goss' unforced errors mixed with Fitzpatrick making every putt eventually lead to a 4&3 win for the Brit. By virtue of their appearances in the final both players earned trips to the Master for 2014. That's not a bad consolation prize for Goss. Both players were also guests of the Red Sox and threw out the first pitch before the Yankee/Red Sox game on Saturday night. Fitzpatrick's next stop is to play collegiate golf at Northwestern this fall. Now stop starring at his mom's tits.
TV Time
No Johnny Miller at the U.S. Am. That's shameful of him. I'm sure his current contract gives him an out for that, but how many USGA titles does he have? Isn't one of them the Am? Why wouldn't he be there to at least comment on the final on Sunday. He also skipped the women's open on Long Island in July.
No Jimmy Nantz or Faldo in North Carolina at the Wyndham either. For once I'll give Nantz a pass. He's working the next two weeks of golf and then he'll do a football game a week until February, then back to golf, college hoops, and more golf. That's a busy schedule. So what the fuck was Sir Nick doing this week? His season is almost over on CBS. According to his tweeter he was hunting and fishing near his West Virginia estate at the Greenbrier. He tweeted a picture of himself with Tony Jacklin celebrating the Euro win in the Solheim Cup.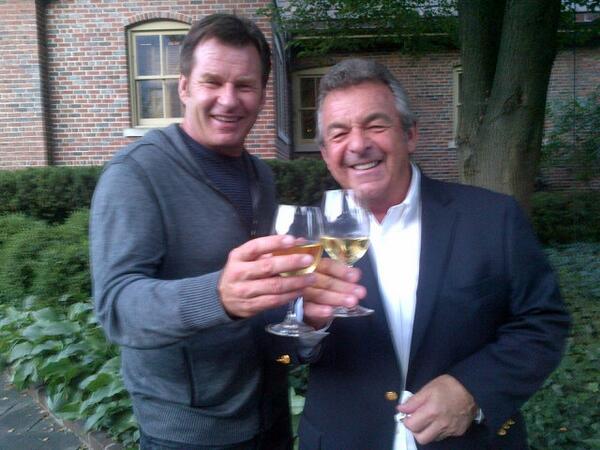 Without Nantz and Sir Nick, the CBS broadcast was pure vanilla, which is all you can expect with Finchy and Bill McAtee going through the motions. No tracer, no graphics, and worst of all…..they still ran long even though the coverage was recorded earlier due to the inclement weather. Nice editing, give them a fucking Emmy for that.
How'd the Golf Channel do covering the Solheim Cup? They did a good job of getting you information, they had some really good audio of caddie and players talking, and they covered the event from opening ceremony to closing ceremony showing little bias for the home American team. That's a big feather in their cap and I think they did the best job they could have given the product they're showing the result that occurred. Judy Rankin was great, per usual, but Terry Gannon can start to wear you down if you hear too much of him. I'd like for TGC at some point to have gone to the bullpen for Terry to give our ears a break from his saliva soaked tongue.
As good as TGC was in their meat and potatoes of the broadcast, they lacked bells and whistles. The overhead shots were fantastic and really showed the great Coore/Crenshaw design well. Outside of that they didn't give us shit. No tracer, no putting lines, and very few graphics about the course we know so little about. I'd also like Trackman data just once for the ladies and for an analyst to compare that to numbers of an average PGA Tour player, just for comparison, not to embarrass them. Is that asking too much?