Duf Daddy!
In 2011 Jason Dufner lead the PGA Championship by 4 shots with 4 holes to play after Keegan Bradley made a mess of his 68th hole of that championship. Dufner rinsed a ball at the same hole and ended up in a playoff with Bradley, which he eventually lost. Duf didn't let that bother him in any way, shape, or form. In fact, he used that showing as a springboard for his career and went on to have a killer 2012 by winning twice, getting married, and making the Ryder Cup team.
Life has a funny way giving us all opportunities at redemption. It's what you do with those opportunities that define you. Because Jason Dufner seized his opportunity at redemption today, he's now defined as a major winner and PGA Champion.
Duf-daddy got it done in every fashion over the final 18 holes at Oak Hill. He'd grind out pars when he had to, drove the ball in play all day, flagged irons shots, knocked in clutch putts (and we thought his putter was balky), and played smart to avoid big mistakes. There was nothing fluky about this win. The best player in the field for the week won, and that's all you can ask for in a major.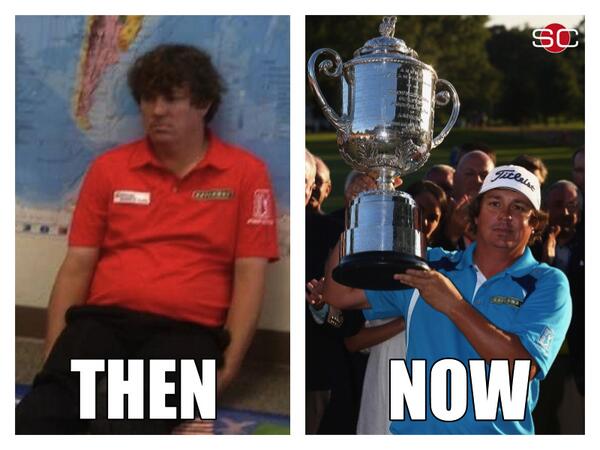 It's only fitting that in a year when #Dufnering became a 'thing', the man, myth, and legend that started such an internet craze snags his first major. Duf is loved by golf fans all over the country. His laid back/no pulse demeanor and every-man way about him makes him almost impossible to dislike. His wry smirks and stone faced reactions make him almost humorous in some ways. So what does a laid back casual guy like Duf do to gain more fans after winning his first major? He love taps his smoking hot wife's ass in front of the world as she runs out to congratulate him on the victory.
Classic Dufner. Now that's the cat is out of the bag on Mrs. Duf, lets take a closer look at her. Yeah, I said she was smoking hot, and I know she might not appear to be in what you saw on CBS today or what you can see in the butt pat GIF above, so I'll build the case for you even though I shouldn't have to.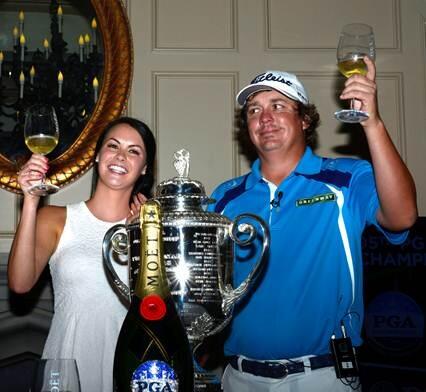 You still need convincing? I'll oblige.
Whew. That's enough for all of you oglers. This isn't surprising. First of all, we've seen her before. Remember the Dufner's got hitched in the middle of Jason's hot streak last May. Second, he's a professional athlete with a couple millions dollars in the bank, even with a goofy look and pot belly, he's going to have a good looking broad at his side. That's how that works. It isn't a mystery.
Remember, just a month ago he was the pro tweeting to the world during the British Open how the holes would play, how a players putt would break, and how much the wind would affect a shot. Now he's the champ with a shiny new trophy, congrats to him and his bride on their big day.
By the way, there's no truth to the rumor that Duf is sitting around using the Wannamaker as a large spittoon on Sunday evening.
The Field
Of the contenders, only Steve Stricker and Lee Westwood went out and hacked it around in the final round. Did everyone play well? Of course not, but the Sunday scores show you how fair the course set up was, so kudos to the PGA for providing a tough, fair, but playable test. They can't help that the rain from Thursday and Friday softened the course to yield a few course records. That kind of thing happens when you give the best players in the world a soft golf course.
Don't tell me Jim Furyk blew it. He didn't. Sure he ended up shooting at 71 today, but that was enough to put him in a playoff if Dufner hadn't gone out and won the thing. He didn't miss short putts or duck hook a tee shot late to give anything away. Furyk has even been quoted to say that he felt different leaving the course today than he did at Olympic when he lost. He should feel different. That was a joke, this was just getting beat. It happens.
It's hard to say anyone 'lost' the PGA in 2013, but if you think back to Friday when Adam Scott was backing up his first round 65 with another 60 something round, you can only wonder, what the fuck happened? While Adam is likely sitting in his mansion right now wearing a green jacket rolling around with a sexy 25 year old chick on a pile of money, he has to be kicking himself for letting 2 more majors get away this year. His play on the 13th hole today summed up his week. He was in contention and going for the par 5 in two. A birdie there and on 14 might have got in back in the thick of things. Instead Scott's 2nd shot missed the green in the fury rough and he flubbed his pitch shot, which lead to a bogey. Game over.
Scott Piercy probably isn't a name you likely thought you'd be reading about on this site right now. Piercy's name wasn't even in the list of contenders that I included in my Round 3 post yesterday. Scott went out an hour or so in front of the leaders, got hot, and looked like he might tie the course record and post a low score. Piercy stumbled late to 'only' shoot a 5 under 65, but his hot streak on the final day of a major was impressive and deserves notice. That type of performance is often built on for later success in future majors. 
Winners & Losers Of The Week
Winners: 
Jason Dufner– As always here, the winner is the biggest winner, that's how ShutFaceGolf.com rolls. Duf was the best player all week, he joined a club that's shot 63 in a major and also became a major winner.
Dufner had an inkling he'd compete for the title at Oak Hill. In a recent bio he listed Oak Hill as one of his favorite courses even though he hadn't played it more than a handful of times. I'd say it fit his eye.  
Golf Fans– Thanks to the PGA we were treated to the best players in the world playing a fair and challenging layout that would yield birdies when played well. That's all you can ask for. Knock the PGA all you want, but the USGA's version of a major is like a fight to the death with old man par. It's not always easy to watch. While the PGA didn't provide dazzling fireworks down the stretch, it did provide chances to score and a worthy champion. The tee moved up on 13 to allow an eagle chance and the drive-able par 4 14th after it were indications that the PGA gets what we want to see, unlike certain other governing bodies. 
Scott Piercy –  I noted Scott's heroic round above so I won't rehash it here. Perhaps Piercy will use his low final round as a spring board for bigger and better things, perhaps it was a fluke and he'll never be heard from again. Doesn't matter, he went low today and that's putts him on the winner's list.
Rory McIlroy –  Take him  and his game off the milk cartoon. Rory didn't really contend in any fashion this weekend. Yes, he had a nice finish yesterday to leap into the top ten, but he was still 6 shots back at the beginning of play on Sunday. His putter looked a little off still too, but showing life still gets him on the winner list. Believe it or not, this week marked the first tournament since the Texas Open that Rory posted multiple rounds in the 60s. He's had a long 4 months. 
Geoff Ogilvy – Right now you're likely thinking, how the fuck does a guy who missed the cut by 5 shots make the 'winner' list? I'll tell you. I told you above how Jason Dufner lived tweeted the final holes of the British Open to tell followers how the holes would play, etc. Seems as though Mr. Ogilvy did the same thing today. It's cool that he did it, but it also means he might be the next major winner…..I'm just saying. My favorite tweet of Geoff's from today is below:
https://twitter.com/geoffogilvy/status/366649739980181504
Keegan Bradley – What the fuck, I'll give you a bonus winner for this one. Why Keegan? Well, he had a pretty nice round himself today, but the class he showed in coming back to the course to congratulate his buddy Dufner in person says a lot. Oh, did you notice something else you expected me to comment on?
Yup, even mama's boy looking Keegan Bradley has a hot piece of ass girlfriend. The formula doesn't deviate. Famous athlete + a couple million dollars = hot chicks in your bed. What's her name? Hoots McGoots. I don't know, but she's been around a while and was his escort at last fall's Ryder Cup festivities.
Losers
Tiger – Five years and counting with no major wins. I'm likely to write that after every major until (if) he wins another one. It's not his fault expectations for him are so high, but when you wax the field the week before and don't even contend in the next week's major, you make the loser list. Without winning a major I can't bump him to the winner list unless he makes a serious upgrade in girlfriends. Perhaps Mrs. Dufner has a sister he could pursue. Fuck it, just steal Keegan's.
Ian Poulter & Howard Stern – Ian played like shit, but he owned it and even had some amusing tweets about going out early Sunday thanks to his poor play. That's fine, I have no problem with any of that. Poulter also tweeted about the idiotic behavior of the fans at Oak Hill, the ones yelling "Baba Booey", "mashed potatoes", and other fun sayings. Howard Stern jumped in and the debate of twits was on. Debate of tweeters? Whatever.
In many ways I enjoy the antics of both Stern and Poulter, but reading their bull shit about how to say "Baba Booey" in my feed while I'm trying to read golf shit during a major is annoying. They both should have shut the fuck up and so should the fans doing the yelling. If you want to yell, at least be original.
Jim Furyk – Hard to put him here for the reasons noted above, but he was the 54 hole leader and he didn't win. Jim is 43 now and these opportunities are going to be few and far between for him. Honestly, it's quite possible that Furyk is never a contender in another major in his career. This one doesn't hurt like his Olympic choke job, but it still hurts.
Lee Westwood – See Furyk, Jim above. He wasn't the 54 hole leader, but he shot 41 when he needed to shoot 31 on his outward nine. Now 60 some majors into his career with no trophies to speak of. Like Furyk, he's running out of chances, at least Jim has a 2003 U.S. Open on his resume.
Club Pros– The PGA Championship is the pro's major, meaning teaching pros. It began with the idea of being their championship because they couldn't play in the U.S. Amateur and has evolved into what you see today. Just a few years ago some 40 club pros made up close to 1/3 of the field at the PGA, but that number was cut in half recently and some argue it should be cut again.
Not a single club pro made the cut at Oak Hill and that won't help the argument against less being in the field next year at Valhalla.
TV Time
Oh boy, where do I start. Faldo, Feherty, and McCord were all pretty good during the coverage of the PGA this week. I'll give Feherty a minus for some excessive cliches that were tossed about with regard to Oak Hill being an old lady. He re-used that one too many times.  Plus, he did say that Dufner would be hard to catch if he kept playing well…….no shit Captain Obvious?
Oostie and Verne were fine too. It's just nice to actually hear Verne working again. As you know, I was worried. Still, Verne gets a little to dramatic with the 'oh-my's' that he elicits at the drop of a hat. CBS called in Bill McAtee to work the 13 hole over the weekend and he made an exciting par 5 seem about as dull as a Jim Furyk's pre-shot routine.
Are you wondering why I haven't mentioned Finchy? I was saving this space for him. He was fucking awful. Time and time again his comments weren't remotely close to accurate or timely. I felt like he might be watching a different golf tournament than I was. May be he was over worked because he was doing the TNT broadcasts too. Whatever the problem, he needs to get fixed. IBF is at his best when less is more. Does that make any sense? The more we hear of Ian the more he exposes himself as a know-nothing.
As most of you know, the image above shows a network broadcasting a golf shot using ProTracer technology. I've mostly only seen it used on NBC and TGC in its few years of existence. Kudos to TNT and CBS for whipping it out today to use selectively. I loved seeing it on the first tee to illustrate trajectory and shape of players' opening tee shots. That might be a golf broadcast first. But why didn't we see it much elsewhere during the course of play? Is it really that expensive to use?
All in all CBS is the best in the business at this, I have to give them their due for that. Even Jimmy Nantz kept the cheese ball shit off the mic today and just let the action speak. Hopefully they keep 2 majors going forward, but I wonder if NBC might try to snatch the PGA now that they've lost the USGA events. I'll also be curious to see the ratings from this year with Tiger and Phil so far out of contention. The 3rd round ratings were up, but they're skewed because last year's 3rd round was delayed by weather.
Shot Of The Day
The early coverage of TNT showed us the players no where near the lead with no chance to contend. Yet golf junkies tune in to see how the course is playing and watch the best players in the world practice their craft. Sometimes being a junkie pays off and you're treated to something incredible like we were today, like Timmy Clark's ace on the 11th. Enjoy.
240 some days until the Masters. I'm juiced!