Things Are About To Get Interesting
The 3rd round of the 2013 PGA Championship was supposed to be moving day for contenders, moving up the leaderboard that is. Instead the course dried up and it's soft greens and fairways became firm and fast. The wind came up too, and all of a sudden the PGA looked more like a U.S. Open. Thirty-six hole contenders like Matt Kuchar and Justin Rose shot zip codes for their score and watched their chances of winning fade with each bogey or double they made. The train wreck casualties didn't only include these two. Most of the field got lost in the ruble as well. What we're left with is, IMO, 9 guys that can legitimatly win the Wannamaker on Sunday. Let's break them down.
Jim Furyk: Ever notice his resemblance to the Muppet that looked like an eagle? I've always thought this, but one quick Google search and look what image shows up.
I guess I'm not the only one who's noticed. As for Jim's odds of winning, I'd put it at about 25%. If not for his debacle at Olympic last year I'd probably double those odds. Jim is a major champion and veteran who's been through everything. His collapses at Firestone and Olympic last year shredded his confidence, but he claims that's been repaired by a psychiatrist. I'll believe it when I see.
Jim is at the top of the leaderboard thanks to his hot putter that lead his Saturday charge. I felt like he made every putt he had to and if that keeps up in the fourth round he'll win going away. That's asking a lot of a tour pro with shaky nerves (from 5 Hour Energy drinks) in his forties who had to sleep on the lead over night. Furyk might have been better off missing that last putt on 18 so he wasn't the overnight leader.
Jason Dufner: Waggle, waggle, waggle……the man with the dip in his lip has been here before. In fact, he's also found a way to choke away a major in recent years. Of course you remember JD's 4 stroke lead with 4 holes to play at Atlanta Athletic Club in 2011. Duf rinsed one at the 15th hole to start that down fall, and here we are in Rochester where the 15th hole is again a par 3 with water on the right. I'm just putting that out there.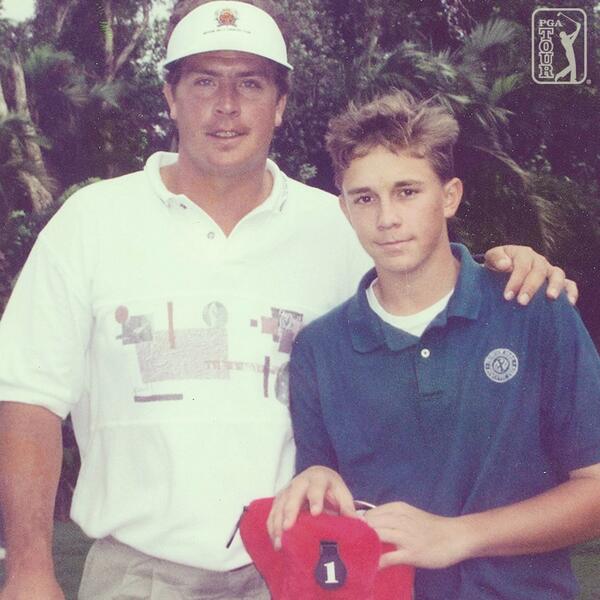 I think Dufner probably learned a lot from his experience in 2011, but his balky putter could be his downfall on Sunday. Like Furyk, I give Dufer a 25% chance of winning his first major on Sunday. He's one back, and unlike Furyk, he's not sleeping on the lead. I think that's a lot less stressful situation to start from. 
Henrik Stenson: The Super-Sweed who's come in 2nd place in his last two starts is 2 strokes back and in third place with 18 left to play in the years final major. Does he have a shot? Abso-fucking-lutely. I'll give him a 10% chance, but that's only because I think his superb ball striking will fall off a bit as it did in Scotland 21 days ago. That's going to put a ton of pressure on his short game and putting, and I don't think he'll make enough putts to win. I'm wrong plenty and Stenson is due to actually win one of these…..that's a lethal combination.
Jonas Blixt: Not a fucking chance. 1% chance he wins. His ball striking stats are horrible. That's just not going to cut it in a major. His putter has been on fire, but that can't keep up. Sure he snagged a win in West Virginia a month ago, but that's not the same thing as winning a major. He's never contended in one and doesn't have the pedigree to win without the experience. Not fucking happening (which is almost a guarantee that he'll win now).
Steve Stricker: If there's a contender that you'd pick as the sentimental favorite he's your guy. This could be his time, but being 4 shots back is a lot to ask and that might put too much pressure on his game to chase down the leaders. Pressure makes things crack. He'll need some things to go his way to leap frog the contenders ahead of him too, so I'll put his odds at 15%. 
Adam Scott: Golf's Adonis has played too well in too many recent majors to not take seriously as a threat to win the final major of 2013. Scott had this thing by the balls about 30 hours ago before Dufner went ape shit with his 63. Today he hit enough shitty shots to make you wonder if he had enough left in the tank to close the deal. Scott being 4 shots back doesn't help his cause, but he's a legit super star with plenty of fire power to shoot 66 on Sunday and take home the big prize. Odds, 15%
Rory McIlroy: Rory is basically in the same boat as Adam Scott, but 6 shots back is nearing the "No Fucking Way" zone. Still, he's got even more fire power than Scott and he's high on confidence from how he closed his 3rd round. 
Remember what he did at Quail Hollow a few years ago after barely making the cut? It could happen again. No matter what happens Rory is showing signs of being back on his game and he'll use this week as a spring board to solid play in the Fed Ex events. Odds, 5%.
Lee Westwood: Too far back, too much baggage. I'll give him a 1% chance just because he'll likely show up tomorrow. Honestly though, when as he ever given us a reason to think he'll actually win a major?
Dustin Johnson: Does he have a chance? Yes, a slim one. He'll have to go low and get in early posting a score. If he needs birdie on the last hole it won't happen. He can't make a putt. At least he won't find a bunker to ground his club in 80 yards right of the fairway. A 66 or better and a -7 score or lower posted would give him a chance.
After his round DJ must have been playing around on the PGA Tour app or been notified somehow that the tour was showing him as having WD'd from the championship. He made sure to tweet that he didn't withdraw (hee hee hee) and girlfriend Paulina poo poo'd the tour for their error. Who gives a fuck? What was she wearing?
Not that, that's an old pic, but I don't have photographers following her around to get instant pics.
If you're paying attention you've realized the odds I've given only add up to 90%. I gotta leave some wiggle room for the rest of the field. They're not out of it and shit happens.
FIGJAM & Earl's Boy
The Champion Golfer of the Year shot 78 on Saturday. He played like shit and couldn't find a fairway to save his life. What does he care? He didn't have it, he knew it, he sucked it up and he's still got the Clarrett Jug to collect his tears. Phil also stuck around for close to an hour after he putted out to sign autographs for the fans. Classy man.
And Tiger, another round in a major that he didn't shoot in the 60s…..that's about par for the course these days. Tiger has been pretty awful in the PGA and he's struggled mightily at Oak Hill in the two majors he's played there. I'd bet $100 he wins another tourney before the year ends, but a year without a major is a wasted year for TW.
Poll Position
Who ya got? Gun to my head and I'll go with Dufner, even though his putter is frightening to me. I'd love to see Stricker win too, but I think he'll get nervy and blow a tire early, just like he did in the U.S. Open. Pick your winner in the poll.
Hold On To Your Hats
It's going to be a bumpy and wild round tomorrow and I hope CBS does us a solid and keeps up with it all. There's enough guys with chances that it is possible we only see a couple of shots hit by the eventual winner until he reaches 17 and 18. And those last two holes are going to be absolute carnage for the contenders, but I bet you already had that figured out. Enjoy tomorrow, we don't have another Sunday like this until April.