Titillating Tiger
Perhaps you were too busy at work today to notice, but the golf world stopped what they were doing and watched with their breath held as Tiger turned to the back nine at Firestone on Friday afternoon. Woods started his round with two 3s, which at Firestone means birdie-eagle, to get to 3 under after 2 holes. A birdie at 3 had the #twitternerds (including myself) buzzing that today could be the day that Tiger does something special, something unspeakable…….the magic 59.
I prophetically told you last week that 59s come in bunches and they're becoming fairly common in professional golf of late. Tiger had that score in sight when he turned in 30. After 4 straight birdies to start the inward 9 the chase was on.
On ten it was a stock 3 wood to find the fairway, stiff iron shot, and short putt for his birdie. On 11 he again found the fairway and finessed a 9 iron to near kick-in range and to get to 7 under on the round. When his putt fell on that hole the look on his face said it all, he knew he was in the middle of something special. On 12 he knocked in a 20 plus footer to get to -8 and even had Faldo uttering the unspeakable.
Tiger's tee shot on 13 was a pull that bounced off the tree and stayed in the short grass. From there he was left with 220 yards up hill. He hit the green, made the put, and at that point it seemed there was no stopping him. Nine under, needing two birdies in the final five holes, no problem.
Back from commercial the Golf Channel added a 'Tiger 59 Watch' graphic to their broadcast above their logo. The ultimate jinx. The first chink in the armor was a wayward tee shot at 14. He showed some nerves there, IMO. Perhaps after his bird on 13 it sat in that he could really do this. At 15 he missed a putt that the whole golf world had probably already counted. Then on the par five 16th Tiger blasted a 370 yard drive that left him 268 yards from the hole in the intermediate cut of rough with a perfect lie and stance. Getting home in two here would have put him on the verge of 59. An eagle would have nearly cinched it. Tiger laid up.
What the fuck? The best player in the world, arguably the greatest to ever pick up a club, 9 under on the day and only a well struck fairway wood away from another birdie and he lays up? What a pussy. If you ask me, he over thought it, got scared, and it got in his head. That's the only way you can explain that decision and the missed putts on 15 and 17 when he needed them and had made everything up until then. I guess that shows even the best can still be mind fucked by this game. 
As you know by now he finished at -9. He made it interesting at 18 though. Not because he was trying to jug his 2nd shot for the number, no…that was out of play after he sent his tee shot into the woods and failed to recover. He clipped his 3rd shot under the tree and on to the back of the green to end his round like this: 
Not a bad little Friday, and a fun way to end it for the fans that sat on the edge of their seats for 3 hours.
Tee Time At The PGA
After a few snafus by the PGA of America they finally got their act together and released tee times for next week's final major of 2013. The headline group they released by itself yesterday features Keegan Bradley, Tiger Woods and Davis Love III. The PGA loves to put together past champs, which is how the group of these 3 came to fruition. It's an interesting mix because of the Ryder Cup drama that went on last fall. Not that these 3 have bad blood, but I'd make a decent sized wager that the words Medinah, cup, and Europe are not uttered by any of these 3 in the first 36 holes played next week.
Without further adieu, here are all the tee times for Thursday, they're virtually flipped for Friday if you couldn't figure that out.
Tee Number 1
Tee Number 10
Of course the traditional pairing of the current 3 major winners of the year is there with Scott, Rose, and Phil playing together. Phil and Rose are playing together this week in Ohio and of course they also have Ryder Cup memories to look back on.
The pairing I took note of is the one with Poulter, Z. Johnson, and Glover. To me that's someone at the PGA having a sense of humor. The USGA is known for this, but the PGA's pairings are much more vanilla most of the time. I find it humorous because Poults has to play with two guys that have majors on their resume. Ian is higher ranked and I'm sure thinks of himself as a far superior player to either Johnson or Glover. It's going to eat at him for two days to play with these guys who have trophies he covets. Perhaps it will inspire him.
Is it just me or does John Senden always have an early time on Thursday at a major? 
Dios Mio, El Burrito Grande Por Favor!
Every tour player that tweets inevitably mentions a meal at Chipotle at some point each month, or so it seems. In fact, golf journos will tell you that if you find the Chipotle closest to the golf course that the tour's weekly event is being played you'll likely see a handful of the players in there on a nightly basis. I can't blame them, it's not bad, it's not expensive, it's quick, and it is somewhat healthy. I eat there plenty myself, lunch today as a matter of fact.
Today in Akron Bubba Watson headed to the Mexican eatery after his round with his caddie, Webb Simpson, and Webb's caddie Paul Tesori. For reasons we're not yet sure of, Bubs picked up the tab for the sixty or so folks dining there and left a $100 bill for the staff as a tip. No shit.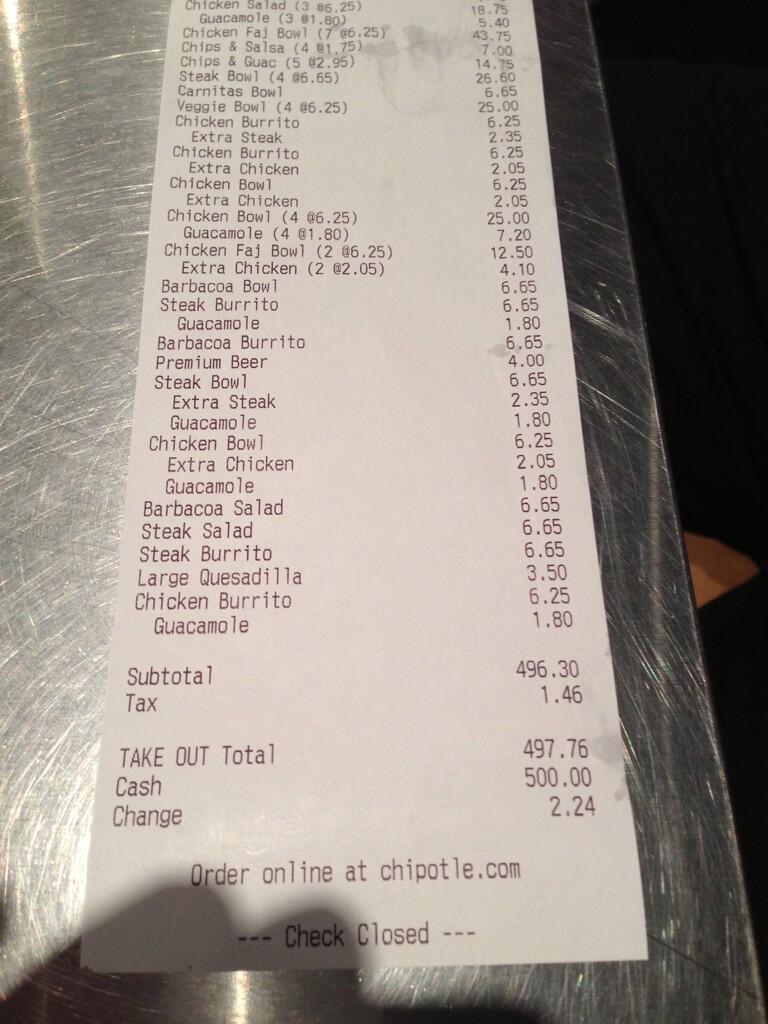 This is why we love Bubba. He's as unpredictable as Phil and almost as generous. Notice he paid in cash. Classy move. BTW, did you know Chipotle will make you a quesadilla if you ask? I had no clue.