Knock Knock Knock
Bill Haas has been knocking at the door all year and nobody would let him in. He lead Bay Hill going into the weekend, he contended at Quail Hollow briefly, and was also in the mix at Riviera and Memorial. Haas had 5 top ten finishes in 2013 before today but had faltered over the weekend once he got into contention. His 3rd round this week could have caused this tourney to end with just another top ten.
On Saturday Haas made 9 birdies in route to a 3 under 68. Think about that for a second. 9 birdies, but only 3 under. He had a bunch of sloppy holes, including a triple bogey at the hellish 11th, but saved his round by hitting it close and holing some putts when he managed to keep it out of trouble.
Haas cleaned up whatever the issue was from Saturday to Sunday and blitzed the field with a 66 on Sunday to win by 3 shots. With Congressional playing like a 2nd U.S. Open of 2013, Haas' 12 under total was more than impressive. Bill was clearly the best player in the field this week when the dust settled, yet I wonder if Jordan Spieth could have made a putt so save his life what Haas might have done with a little less breathing room coming down the stretch.
Oh, Mrs. Haas…..well of course she didn't go unnoticed. You can't run out to your hubby when he wins, get half the check, and not get judged and tormented on this little sliver of the internet world. That pic above makes her look like a Stepford wife from 1958. EDIT: That pick above is the AT&T CEO. My bad. 
I'll be nice and just say, she's not my type. EDIT: The 2nd pic of actual Mrs. Haas isn't bad knowing the doesn't look like the middle aged woman above. 
The more interesting thing from that first photo is that Tiger hung around DC all weekend to play host and even present the trophy. Do you think if Phil was the guy getting the trophy he'd have done the same? Somebody check to see if the working girls of our nation's capital are walking funny on Monday. Tiger had a lot of time to kill this weekend and I don't think he was giving the President putting lessons. That also might be the only time you ever see Tiger, at a golf course, on a Sunday, not wearing a red shirt. Weird.
Irish Eyes
Most of the golf world gave up on the Irish Open this weekend after Rory missed the cut. I woke up this morning to a tasty French toast breakfast and live golf from Europe on the big screen. That's good enough for me to burn off my morning fog. I must have done a double take once they finally showed the leaderboard because low and behold, Paul Casey was leading the tournament with less than 9 holes to play!
When was the last time that happened? Unbeknownst to me, it happened 2 years ago when he won on the Euro tour. I would have guessed something more like 2007. He's been Anthony Kim……errrrrrrr………missing in action for what seems like forever.
His teacher, Peter Kostis, tweeted how happy he was to see Casey win and that we had no idea what Paul has battled to get his game back over the past few years. Sounds like there were quite a few injury problems to work through. Whatever the case, PC was brilliant on Sunday in Ireland to take the trophy. He built a huge lead toward the middle of his round before the weather turned nasty. After donning the waterproofs and surviving the wind, Casey's lead looked insurmountable…..until he started to choke it away. Casey 3 jacked from the fringe at 15 and 16 and would have only been tied for the lead if Joost Luiten could have made his birdie playing a hole behind. Casey steered out of the skid with a solid par on 17. His drive on 18 was in play and he hit a bullet through the wind on his 2nd shot to find the green where this happened:
I picked that version of the clip just for the announcers and their entertaining language. Casey's bomb was the nail in the coffin for the rest of the Euro field. Even Robert Rock's perfect head of hair was no match for Casey's eagle at the last. Congrats to the former Arizona Wildcat on his comeback win. PC plays well in the wind. He could be dangerous at Muirfield in two weeks.
What's This I Hear About Women's Golf???
Don't get your panties in a bunch…..yes, of course we all know there was a Women's U.S. Open played on Long Island this week. This was the coming out party for Sebonak, the Tom Doak/Jack Nicklaus designed uber-private club that is the newest jewel in the crown worn by golf royalty on Long Island.
Oh it looked great, didn't it? A bit of golf porn for us course junkies. However, my peeps that have played it basically called it a pile of shit. Having not toured it myself, I'll reserve judgement. I think my source on this was a bit jaded and lost perspective because he'd just played Shinnecock, Fishers, Maidstone, and the National when he saw Sebonak. That's a pretty good week of golf and enough to make a lot of people look down on the new kid on the block.
Personally, I haven't played a Doak course I didn't like. I think the guy has a great eye for placing a course on the land he's provided. He makes interesting green complexes that when attacked correctly allow you to score. I didn't see much Nicklaus influence in the course, but I wasn't looking closely.
The golf itself, well….Inbee Park made it a snooze fest. Going for a 3rd straight major, she built a big lead and still won by 4 even shooting an over par round on Sunday. Did you tune in just to watch her get a trophy? I didn't think so. No offense to Inbee, but she's got a pocketful of majors now and I can barely identify her in a line up.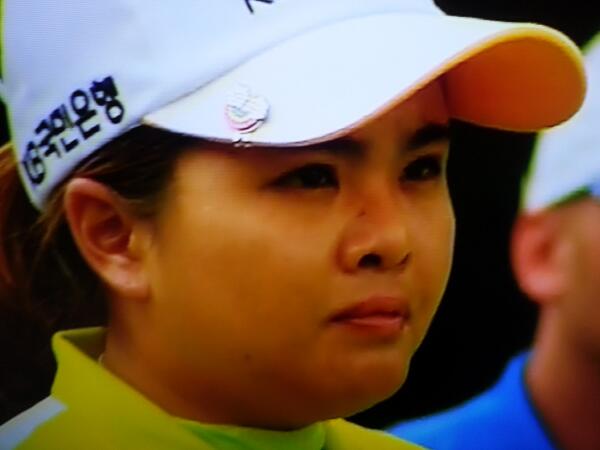 A. She's not cute, so I don't pay attention.
B. About 70% of the LPGA is of some type of Asian decent. How the fuck am I supposed to keep track of every single Park, Kim, Choi, etc. that gets a trophy?
C. Park doesn't do anything to make you pay attention. She manages her game, dinks it down the fairway, and rolls in putt after putt after putt after putt. That's boring. Sure she wins, but I'm asleep thanks to how she got there.
All of these factors are why the LPGA is shitting itself. They know no one is watching and no one cares. They don't have American stars to carry the game like the men have. They don't have a sexy or exciting star. Their best players all look alike and are hard to distinguish from each other. And to top it all off, they don't speak English.
Caddie Drama
By now I'm sure you've heard that Jessica Korda fired her caddie in the middle of her round on Saturday at the Women's Open. Her boyfriend was there in the crowd and he quickly replaced her regular looper. Here's what Korda had to say about it.
In other words, I have to blame someone and the caddie is taking this because I say so. She's talented and will make money in the next 5 to 10 years so looping for her will still be an attractive gig to most. I wouldn't take it because she seems like a cunt. Hey, maybe the caddie made her eat her vegetables and that wasn't fun for her. Fuck if I know.
TV Time
I didn't watch enough of the USWO to comment on what NBC had going on. Was Johnny Miller even there? I only heard Annika. What I did hear from Ms. 59 was pretty good, but her accent makes her hard to understand at times. Additionally, she doesn't explain her thoughts that clearly or concisely.
As for CBS and the men at Congo, they do what they do. You surely know what you're getting from them every week. I think they do mail it in a bit when they know the broadcast is tape-delayed. They know an editor can save their ass if they fuck up during the recorded action. Another week of no Kostis, but Faldo and even Baker-Finch picked up the slack with some swing analysis. They're not Kostis in that department, but they'll do.
Speaking of Sir Nick. He and his butt buddy Jimmy Nantz were both back in their tower this week after nearly a month off. It's nice to see that these two think AT&T is important enough for them to show up and work. After Tiger and Rose withdrew I had my doubts. Even with those two back, Verne was again on hiatus. I'm done trying to figure out the vacation schedules of well paid television broadcasters.
Kudos to CBS for picking up on the bird theme thanks to D.H. Lee. If you missed, the young tour pro took out some of his Saturday frustrations on a fan that he thought said something to him.
Lee later apologized and basically said he just lost his mind for a moment. CBS showed it, but it was later edited out on TGC rerun. On Sunday, IBF, Nantz, Faldo, Feherty and McCord never missed an opportunity to reference 'the bird', tongue in cheek. Lee gave them plenty of chances to do so with a sizzling 64 on Sunday. Who knew "Extra Starch" Nantz had that kind of subtle humor in him?
Next week, Greenbriar, where Fishing and Falconry flourish.