A Prophecy Realized
Harris English won a Web.com (Nationwide at the time) event as a college amateur just a few years ago. From that point forward he's been crowned by the golf journos as the next big thing. His college teammate Russ Henley already delivered with a win in Hawaii to start the year. Harris English was due to get his. Ask any idiot with a golf blog who they thought would be the young guy that would break out and win this year on tour and I'd bet the majority of them would give you English's name.
Yet I was beginning to convince myself it might not happen. English has had a solid season with a handful of top ten finishes, but a missed the cut at Colonial and skipping the Memorial made his victory this week a bit surprising. English's 66-64 start in Memphis was incredible, but he let the field catch up to him while he was stuck in neutral on Saturday. Having a red hot Scott Stallings and all time great Phil Mickelson up your ass on Sunday would put a lot of pressure on anyone's game. On the 17th, English played an incredible shot under a tree limb to about 20 feet near the back of the green to remove himself from trouble. Meanwhile at 18, Stallings was about to make bogey while Phil did this:
At that point, I figured Stalling and Bitch Tits for a -10 tie and English would make bogey on 18 for a 3 way playoff. Didn't fucking happen. I'm not sure if English knew what was going on at 18, but I don't think he cared. He got up over his 20 foot left to right slider and drilled it for an unlikely birdie at the 71st hole. That locked up a 2 shot lead. From there, Harry (as his tour friends call him) just had to avoid pulling a Garrigus, sans swamp ass, to earn his 1st victory. He did so successfully.
The kicker for 'Harry' is that the win doesn't get him into the U.S. Open at Merion on Thursday. Seems like a fuck up there, doesn't it USGA? Don't fret, he made a million dollars today and gets to play at Augusta next year, he'll be fine.
The Field
Another week, another Sunday front nine charge from Mr. Stallings. CBS said his last three Sunday front 9 scores were 29, 30, and 31 at Colonial, Memorial, and Memphis. That's crazy fucking good. I think his back nines have all been par or worse, but he's got something figured out going off before the leaders and chasing them down. Eventually he'll close one, but I don't expect it to be in Philly this week.
Phil's phantastic phinish likely vaulted him to the (near) top of everyone's list of favorites at Merion. I was thinking about picking him there before today, but now that it's a popular move I'll probably avoid doing so because the betting public is stupid with their money. He did look good today, I'll give him that (and took a big chunk of cash to pay taxes on – UPDATED TAX METER). I can't see him holding up in an 'old school' open. What I mean by that is, there's no graduated rough this year. That's been the key for Phil contending, IMO, at opens. The fairways this week will be less than half of what he fired at in Memphis. He won't carry a driver as he didn't this week, but I don't think that will matter. Can you count him out? Phuck no. Don't forget, the town is named PHIL-adelphia.
Patrick Reed showed up on the leaderboard for 10 minutes on Sunday. Normally that wouldn't get you a mention on here, but when Fairway Feherty is talking about your lovely caddy-wife as often as he was, that gets you a blurb. Apparently Mrs. Reed is putting off her career as a nurse to tote Pat's sack on tour this year. Is she cute? Yeah, in an Oompa Lumpa sort of way,
but she's really getting mileage out of long blond hair and sun glasses.  She must have made it in the coverage a good 10 times today and I could never get a clean look at her to shamelessly judge and ogle her as I must do. Thankfully, Google had the goods and now you can do the same with the mini gallery I provided here:
She won't make the swimsuit issue, but any broad that'll caddie for her man gets extra credit from me. I almost feel bad for her, his staff bag looks like it weighs more than she does.
Personally, the best caddie I've ever had was my wife. She looped for me in a city tourney back in college. She knew almost nothing about golf, but smiled, hustled and hoped I took her someplace nice for dinner after the round. Her only foul was dropping my lucky head cover and having to go back 200 yards to get it. A caddie that can keep your mind off golf for a minute or two between shots can be more valuable than a caddie that gives you clubs and yardages, trust me.
Hopefully you didn't go out to TPC Southwind on Sunday to watch John Daly play. If you did, you didn't see much. No, big John didn't WD like he often does (he only does that before the cut). With an odd number of players making the cut, the last place fella had to go out as a single.
JD was that man and he played all 18 in 1 hour and 52 minutes. I don't think I could even walk 7,000 yards that fast. How many Red Bulls and cigarettes did he go through? John, the USGA thanks you for supporting June as their Pace of Play Awareness month. Seriously, that's a thing.
TV Time
Many of the big names on tour take the week before majors off. That makes sense, doesn't it? They need to rest for the grind they're about to jump into. What doesn't make sense is when the 'big names' of golf broadcasting do the same, especially when they're not even working the mother fucking next week. Jimmy Nantz, what the fuck? You're too good for Memphis? McCord? Is he banned from TPC Southwind? Faldo? None of them showed. It was pathetic. And we're stuck with Bill McAtee, Finchy, Oostie, and Feherty. Feherty held the thing together with duck tape as the rest of the fucktards slept in their booths. It was a weak effort.
What did CBS do well this week? It's a short list, but I liked the data they gave for PGA Tour courses with the most hole-outs and most balls  in the water. That was interesting to see as Southwind leads in both categories. The water balls didn't surprise me, there's water in play everywhere. The courses with the most hole outs (other than Southwind) seemed obvious, they all have small greens that when barely missed leave relatively close to the hole chips. Too bad they didn't tell us why Southwind lead that category. It was certainly an odd duck on the list.
We did find out during the Saturday broadcast why Kostis is MIA.
Very sad to hear. CBS says he'll be back soon. Let's hope so.
Moist Merion
With Merion being set up as the shortest course in recent open history the USGA has gone on record saying that the set up needs to be firm and fast to protect their beloved score of par. Well, that's not happening.
The golf course was getting pelted by rain during most of the last 7 days. The tropical storm that burst up the East Coast piled on what had already been a wet early June. I'm sure they'll try to bring in helicopters, pumps, and Mike Davis will be blowing a hairdryer all over the course to dry it out, but the damage is done. Remember how low scores got at a  soggy Bethpage in 2009?
The scouting report says most of the field will likely hit a wedge into 9 of the first 13 holes on the course. At least the last 5 holes are brutal. Sooooo…….soft course, 9 wedge shots……..par is toast. Oh and by the way, if they get more rain and some of the holes that are already saturated become unplayable, the USGA has designated holes on Merion's other course as back ups that could be used if needed. Oh my! We'll talk more Merion later this week. It's going to be interesting, if anything.
M-Project Shoe Review
If you follow me on the tweeter you likely saw that I received a pair of M-Projects from Footjoy a week or so ago after I returned home from missing the cut in a regional amateur event. I'm a shoe whore, so it turned my frown upside down. I ordered the blue spikeless version and finally got to wear them over the weekend.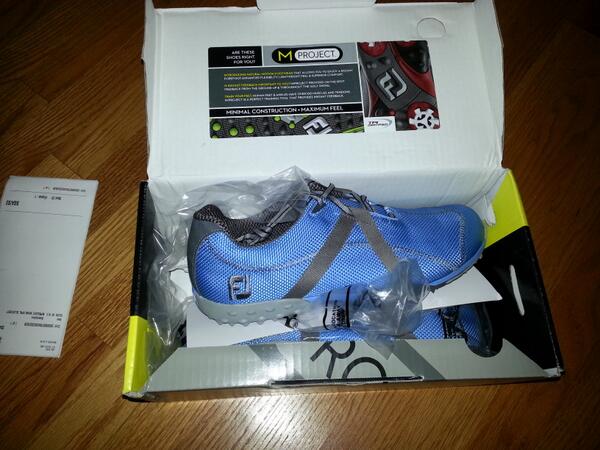 Quite simply, I love 'em. They're blue, so they're a bit faggy and yeah you can't wear them with every thing, but if you walk and carry your bag I'd highly recommend them to you. Are they for slogging over a wet course? No. They're waterproof (2 years) but they're not the shoe for that type of round. I wore them Friday right out of the box for a twilight round in a cart. I never trust a shoe to walk the first time I wear. You barely notice you have anything on your feet. Another 18 today with the bag on my back and they were even better. Get a pair, your feet will thank you.