Boring Golf = Big Checks
Matt Kuchar's game is getting to be about as boring as watching paint dry, as watching grass grow, as listening to a Tiger Woods interview. On his way to victory today at the Memorial he hit some 20 fairways in a row (from round 3 through round 4) and barely missed a green. Faldo and Nicklaus were quick to point out how good Matt's distance control was and how that was the key to leaving himself in such good position to either make birdie or avoid three putts. No shit Sherlock? It sounds too easy.
In the land of #twitternerds Paul Azinger chimed in to tell us all how Kooch's swing changes  from a few years ago have made him successful.
I can't argue with that. As someone (me) who often hooks one at the worst possible moment, Zinger's analysis makes perfect sense. But that's not the only thing that's made Kuchar a human Brinks truck. His putting and short game are rock solid too. When you look at Kuchar's ball striking stats they don't blow you away. Then look at his putting and scrambling and you start to see the dollar signs next to them. He's got the kind of game that has to eventually lead to a major. He's picked off big tournies of late; a Fed Ex event, the Match Play, a Players, now Memorial…..a U.S. Open or PGA seems like the next step in his progression.
I think his calm and unfazed demeanor is really the secret to his success. You could probably tell him you fucked his wife and he'd just smile and say "golly gee shucks, oh well", then he'd slit your throat after inviting you over for dinner with the family (believe it or not, he's known as one of the biggest shit talkers on tour). When his challengers made any move to cut his lead at any point today, he stomped on them like Tiger would by answering back with a birdie of his own. Don't let his politeness fool you.
With a 2nd place finish last week and a big win today at Jack's house, is Kooch the new favorite at Merion? That's doubtful. Vegas likes your money and the betting public is full of suckers that will still take Tiger. However, if Matt keeps his hockey playoff beard he may be the guy holding the trophy late on Father's Day.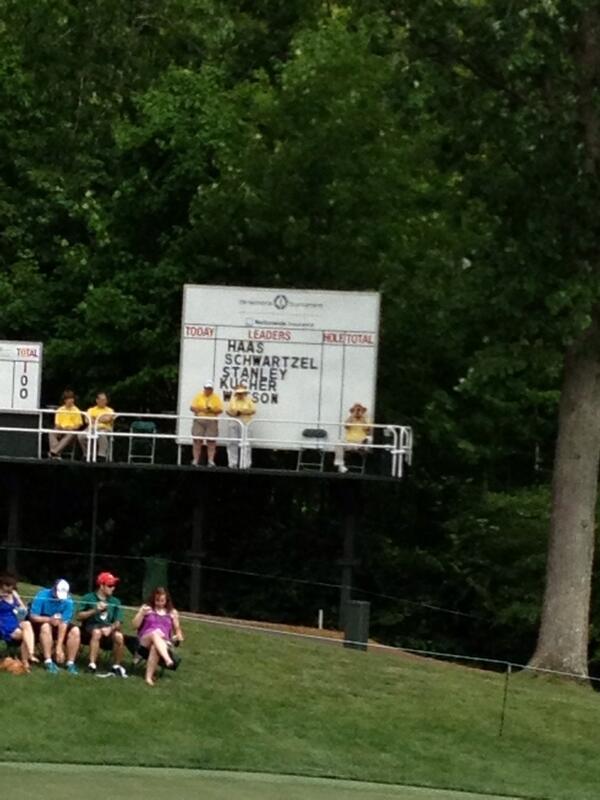 Smart money says the USGA folks at least spell Kuchar's name correctly.
Double Trouble
If anyone can tell me a 4 round event that Tiger played, made the cut, and made more double bogies or worse I'll eat my own finger nail clippings the next time I cut them. His 71 on Thursday looked pretty good and it seemed to be only a matter of time before he shot a 67 or better and jumped up the leaderboard. But none of that happened. The 67 became a 74. Low round early on Saturday, right? Not even fucking close. He started on the 10th tee and by the time he tapped in for triple on 18 he'd gone out in 44 to start his weekend. Amazing. He showed some glimpses of being lost like this when he was rebuilding his swing and came back from long layoffs caused by knee injuries. This was different. He'd just won the Players and was again a legit number 1 in the world.
On Thursday I was convinced that he was just tuning up for Merion. Not much changed that opinion on Friday. By the time he made the turn on Saturday any thought of this being just a tune up for the Open was out the window. If you saw any of it or checked his stats, he actually found the fairway often enough to make his weekend scores even more shocking. He missed big with the driver, but hit few of them. His 3 wood and 5 wood tee shots mostly were in the center cut of the short grass. He was putrid with his irons, his putting, and the rest of his short game. I'm sure he and Sean Foley will be in full panic/cram mode for the next week trying to sharpen these areas of concern. Two triple bogeys and 20 shots behind the winner……wow. I'm still shocked. This might also be a good time for him to get to Wisconsin and get another putting lesson from Stricker. I don't think any of what he does will matter. His confidence has to be shattered and I don't think that's something you can regain when the next shot you hit in competition will be at a demanding U.S. Open set up.
The Field
When challengers like Adam Scott and Charl Schwartzel showed up on Saturday it looked like we might still have a golf tournament to watch after all even with Tiger and Rory playing shitty. Yet, those two International Team Presidents Cup stars faded and were out of it by the time the leaders started their 2nd 9 on Sunday. The only challengers remaining for Kooch were Kevin Chappell, Kyle Stanley, and Scott Stallings.
Stallings has done this now two weeks in a row. Make the cut, hang near the leaders, and make a run at them playing a few holes ahead on Sunday. Inevitably in both weeks Stallings has made just enough of an error somewhere down the stretch that he can't catch the leader and his bid to win ends before he even signs his card. Yet his last two Sunday rounds have included some spectacular golf just to get into contention. He's such a hot/cold player we should try to enjoy his run before it ends. I hope he's teeing it up this week in Memphis. If so, he'll be a popular pick in fantasy golf circles.
That's Kevin Chappell. He showed some big onions when he made a late charge today to try to steal a victory from Kuchar. Chappell carded the only bogey free round on Sunday at Muirfield Village in 'major-like' conditions. He made 12 straight pars to start the day before he drained a bomb at 13 for birdie. His make at 17 was similar and put him within two of Kuchar with one to play. Chappell then flagged his approach on 18 to make Kooch sweat a little. What's interesting about him is that he won the Nicklaus award in college. It's ironic that his best finish on tour came at Jack's event. Chappell has game, and what no one knows about him is that he's placed in the top 10 at the last two U.S. Opens with a 3rd place finish at Congressional in 2011. He just might be the ultimate sleeper at Merion two weeks from today.
TV Time
Last week I questioned where the CBS crew was, specifically Peter Kostis. Jim Nantz revealed today that Kostis is at home recovering from some type of illness or surgery. They expect him back to work soon. That's good to hear. Get well soon, Pete.
As for the coverage……..meh. Again CBS fell short on providing the data we know that is available. It may be it is no longer their M.O. to provide it because of the DirecTV channels providing this type of data to you. Or maybe they've determined that the average viewer is only confused by such data and they don't feel a need bore you with it. Whatever the case, there is probably a balance to embedding it in the broadcast for the tech nerd viewers that needs to be found and as it stand now they're missing the mark.
CBS was fine at showing groups from all over the golf course on Saturday, but we didn't see much outside of the top 4 players on the board after the first hour of coverage on Sunday. I thought the amount they showed Tiger was adequate, but far too many arm chair quarterback network producers are bitching that there's no reason to show a guy 20 shots off the lead. If you really believe that you live in an alternate reality. Twenty shots or not, the man in red pays the bills for these networks. People that tune in want to see him. CBS has an obligation to show him. Not showing him would be ignorant.
Did you get to check out the PGA Tour Experience on DTV? If you're watching the network feed live there is plenty of down time for you to switch back and forth and get something out of these channels. I think that's the best way to use them and get the most out of them. The featured group channel is nice on Saturday, but you'll likely see plenty of the featured group on Sunday either way. The Shotlink channel is great, yet you can get all that data on an ipad or computer while you watch. I liked the LaunchPad channel dedicated to tee shots, but it needs some tweaking. First, they chose a horrible hole for the coverage. On 15 at Memorial the hole plays uphill and is very narrow. These guys aren't free-wheeling the big stick there like they would on a typical par 5. Second, why show the shot live and then the replay with the tracer? Just show it live with the tracer, we can't see the ball once it leaves the club anyway. We also know that the data for spin rate, launch angle, ball speed, etc. can be delivered in real time, so why do we have to wait for it? Why are some tee shots skipped? It might have something to do with filling dead air, but if that's the case, get data and swings on two holes on the golf course and provide us with more data and analysis. Am I asking too much?
Longest Day In Golf
You've likely seen the Golf Channel's promotions for tomorrow's 'Longest Day In Golf'. That's no joke. Tomorrow at a dozen or so courses around the country amateurs, mini-tour players, and major winning tour pros will tee it up with hopes to qualify for the U.S. Open at Merion in two weeks.
Dreams will be both crushed and realized after a long grind of 36 holes. Days like this are when TGC is at it's best. The stories that will roll in from the sectional sites are often unbelievable and filled with drama. Sit back and enjoy it, it's probably the best Monday of the year.