No Truth To The Rumor That He Also Ate At Geno's
Remember when a reporter asked Tiger after he won the Players Championship what he thought of Merion (host course of the 2013 U.S. Open)? Tiger said he didn't know and hadn't played it. That has apparently changed now, just as we knew it would. Reports surfaced earlier this week that Tiger Woods pulled off a secret covert ops mission to play Merion on Tuesday in a foggy mist. In 2002 when the Open was contested at Bethpage's Black course Woods and his crew pulled off a similar mission, but with much less photo evidence.
Evidently TW was in a similar situation that year having never seen the course. Because Bethpage is a public facility Woods only way of seeing the course without much fanfare was to have a car drop him off across the road (a road divides the 1st, 15th, 16th, 17th, and 18th holes from the rest of the course) by the maintenance sheds so he could begin his scouting trip on the 3rd tee and go about his business relatively unnoticed by the golfing public.
Unlike his 2002 covert op, someone got a picture of Tiger playing Merion on Tuesday and……  EGADS!!!!!! He wore mother fucking cargo shorts. Perhaps you remember what I said about wearing pants and East Coast private clubs a week or so ago, if you don't, refresh your memory. He's not in a professional tourney, he can wear shorts if he chooses, why the fuck not? I'll tell you why, because they're cargo shorts. I'm far from a traditionalist, but only weekend hacks wear cargos on the golf course. No one at a private club wears them and certainly the greatest player of all time shouldn't be wearing them at Merion. I don't mean to sound like a golf snob. Cargo shorts are perfectly acceptable for tailgating, hiking, random Saturday afternoon benders, back yard BBQs… …whatever……just not here, not then, and not ever on a golf course.
There's not a ton of info available as to what Tiger thought of Merion or how it is set up, but you can already tell from his 1st round at the Memorial today that he's in full blow prep mode. You can count on one hand how many drivers he hit at Jack's house in his first 18 holes. The 3 wood and 5 wood stingers were worked on early and often. Controlled iron shots away from pins, check. Great speed on long putts on fast greens. Check. He's not thinking about winning this week. Not that it can't happen, it's just quite obvious his mind is already focused on Philly two weeks from now, but he'll never say that.
That GIF above, that's obviously a collection of Tiger's swings from age 3 to the current year. It's a neat comparison someone put together that is going around the interwebs and twitterverse.
Couch Potato Golfer's Wet Dream
DirecTV dropped a big nut on golf fans this week by announcing their deal to provide bonus coverage on their additional channels during weekend coverage of certain PGA Tour events. They already do this for the four majors, but the new deal gives us viewers even more.
DTV is now offering the PGA TOUR Experience – in HD free of charge to all customers on channels 710, 711, 712, 713 and 714. The tournaments included are the Memorial Tournament presented by Nationwide Insurance (June 1-2); the Travelers Championship (June 22-23); the World Golf Championships-Bridgestone Invitational (Aug. 3-4); and The Barclays (Aug. 24-25).
Via the four-in-one screen Mix Channel you'll have the option to see the CBS feed; "Launch Pad," a channel dedicated to analyzing long drives with Trackman data; "ShotLink® Channel (think all stats and data from the tourney, all the time);  and the Featured Group channel DTV uses now for majors that follows certain groups on the course from the 1st tee to 18th green. This bonus coverage also includes additional tournament content on the PGA TOUR iPad app. That's a good thing because right now that app is worthless.  I did notice extra Trackman data shown during Tiger's round today on TGC. I'm guessing that's just the tip of what the Launch Pad channel will provide this weekend.
Day 1 At Jack's Place
The Memorial might be my favorite non-major tournament played all year. Jack built it to feel like a major. Most of the top players in the world are here. The course is pristine. And Jack still makes the effort to invite special amateurs to compete in his tournament, hence the reason you see Mr. Guan in the field in Ohio.
Thursday's action was pretty tasty. Unfortunately we didn't get to see Chest Hair Charl light up the course with 10 birdies and a 65 as he was finished before coverage on TGC began. We did get to see plenty of Tiger, Keegan, Freddie, Kooch, and Guan. Keegs and Freddie had roller coaster days filled with birdies and blunders that made each of their rounds amusing. The players and announcers couldn't shut up about the speed of the greens exclaiming time and time again how they're rolling at a 14 on the stimp-meter. I call bullshit on that and somewhere in the Pittsburgh suburbs a gaggle of Oakmont members are laughing at that thought.
Because Memorial is Jack's tourney things at Muirfield are done his way. Jack doesn't want his property littered with the golf manufacturer's equipment trucks so they aren't allowed on site this week. Therefore, when a guy like K.J. Choi decides he needs new wrenches he has to go to Golf Galaxy like a common weekend hacker and buy them. Choi picked up some standard length and lie Mizuno MP-64s and shot level par in round 1 using the stock sticks.
Where's Phil? Probably back home at his phucking house calling it phamily time. Last year Phil shot a nasty 79 on Thursday at Memorial. He bitched about all the cell phone noise he had to deal with as the tour had recently changed it's policy on cell phone use at their events. In protest, Phil WD'd on Friday explaining that he was fatigued and needed to rest for the upcoming U.S. Open. Jack was pissed.
It should be no surprise at all that Phil elected not to return to Columbus this year. He's still pissy about last year I'd guess. Plus, he probably figures Tiger will win so why should he be around for the coronation all weekend long? Oh well, no Bitch Tits Tax updates this week.
New Kicks And Genius Marketing
In January, Taylormade repackaged there R11s with a racing stripe and called it the R1. That wasn't enough to get you to buy? No problem. These marketing wizards are now giving you the option to get their big stick in black, and once you go black…….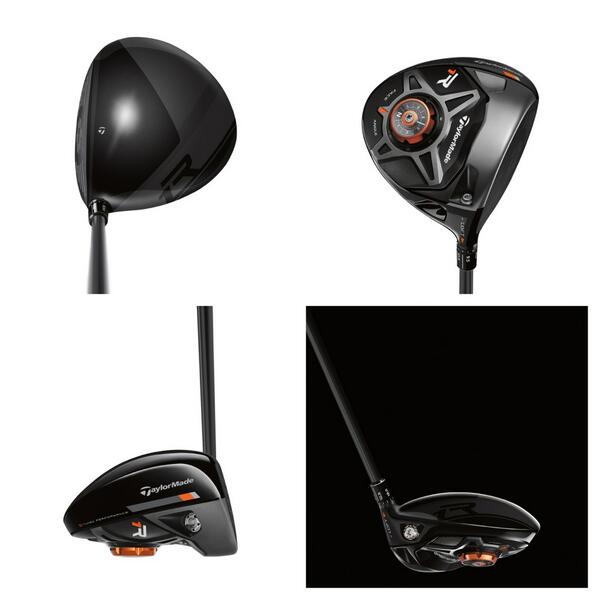 There was a rumor about this a month ago, but TM squashed it by saying they only made a special version for Mike Weir at his request. We should have known better. Nobody cares about Mike Weir's game anymore (sorry Canada). I'll admit it has a pretty clean look to it compared to that sweat sock looking thing they threw at the golf world in January.
Keegs had some new kicks on when he twitched around Muirfield Village today. The #twitternerds were abuzz about them because…..oh my……they're from the Jumpman (Michael Jordan) line!!!!!
We know Bradley and Michael Jordan are pals and like to wager on the course. Did this come about from Jordan losing a bet to Keegan? There has to be some tie-in. Jordan's done worse for losing (and winning a bet). As for the shoes themselves, I think they're queer. Everything Bradley wears is. I like him and his game, but he always has the "my mom dressed me this morning" look on the golf course. Tiny shirts, tight pants, hats that don't fit like they should…… you get the point. These shoes just add to that.
It's almost Friday. Beer me.