Eagle Eye – East Lansing, MI (Architects: Chris Lutzke & Pete Dye)
Background
In the early 2000s Hawk Hollow Golf Properties decided to expand their roster of courses and add another 18 hole championship layout. They hired Chris Lutzke who was one of Pete Dye's right hand men over the years to do the job. Completed in 2004/2005 Eagle Eye was announced to the world as the 5th-best new course in America in 2005 by Golf Digest, and the 4th-best course in Michigan in 2006 by Michigan Golf magazine. It was also rated the 27th best public course in the nation and 4th best in Michigan by GolfWorld subscribers (September 2009). When you consider that Arcadia Bluffs, Forest Dunes, and Greywalls are also in Michigan, Eagle Eye's ranking puts it in some pretty good company. 
Layout/Scenery
As you might have noticed from the picture and yardage book page shown above, Eagle Eye's 17th is a replica of the famed 17th island green at TPC Sawgrass. Dye of course designed the TPC and I'm told he allowed Lutzke to replicate it to within a few inches when building this Michigan track. The 17th gets all the hype, but the other holes are nothing to sneeze at.
The property was a sod farm before Hawk Hollow and Eagle Eye came to fruition. The land is quite fertile and the grass is lush, but there isn't much else to look at beyond the course itself. There are some nice vistas of the stately clubhouse that sits behind the scenic lake dissecting the 9th and 18th holes. These two holes and the lake serve as the back drop to many wedding receptions hosted by the course. The Michigan Section PGA offices are just off to the side of the 1st tee. Their employees definitely have a better view from their desks than I do.
Score: 3.5
Conditioning
I've probably played Eagle Eye 10 to 15 times now since it opened. That's quite a few seeing as though I haven't lived within 200 miles of it during the time it has existed. Yet every time I play it, whether in March or November or anything in between, it's in the best condition of any course you'll find for that time of year. The greens are somewhat undulated so they can't be ridiculously fast as they'd advocate 5.5 hour rounds if they were any quicker. However, they roll true and reward good shots struck from the fairways. The fairways are for the most part wide and lush. My one complaint in this area is that the ground is soft and they water the fuck out of the course to keep it handsome. You don't get much roll off the tee no matter what time of year you play.
Score: 4.5
Value
Eagle Eye will charge $89 in the peak season for their regular rate. That's about right for what you're getting at this course. They include your cart and range balls before you play. The locals might find this to be a bit pricey, but folks from the east coast or more populated areas will find this to be a bargain. If you are a bargain hunter, play Eagle Eye early in the season at a spring rate. The sister course across the street is a little cheaper too and worth playing if you have the time. Eagle Eye often advertises special prices on their website during holiday weekends.
Score: 3.5
Service/Pace
Above average. I don't think they generally get enough play to call the pace here slow. Plan on 4 and 1/2 hours though. We played as a twosome, and there were several other twosomes stacked up around us all waiting on a foursome bogging things down. That's no one's fault, but the foursome probably played in 4:45 and no one seemed to care.
The food and beverage selections are wide and more than adequate, but I must warn against the cheese-stuffed-soft pretzel. Don't get me wrong, it's delicious, but it caused me to throw away a decent round due to carb/sugar overload. The staff serving you will likely come from the local university, so you'll be happy to see some of the young ladies that show up on their magic cart stocked with goodies.
The Hawk Hollow properties also are home to the Greg Webber Golf Academy if you're looking for a quick fix for your game. I'd recommend Mr. Webber to anyone taking up the game. He's one of the friendliest golf pros you'll ever meet and he'll make learning the game fun for you.
EDIT: As of 2014 Mr. Webber is no longer employed by Hawk Hollow, but can be found teaching at the course of Michigan State University across town. 
Score: 4
Amenities
Eagle Eye's clubhouse and facilities include everything you're looking for, but none of it makes much of an impression on you. They do a nice job hosting wedding receptions, but they don't have much of a restaurant or bar atmosphere for after your round. The driving range and putting greens are above average and provide you with great environments for honing those parts of your game or warming up. Yet, I'm not sure they have any area dedicated to practicing your bunker play, pitch shots, flops, etc. They do not have a caddie program so that knocks them down a peg too. I did mention the Golf Academy across the street. On top of that, the 27 holes, and additional clubhouse, the Hawk Hollow course has one of the very few natural grass putt-putt courses in the country.
The Little Hawk is a great place to finish your day on the grounds. They'll even let you rent a cooler and sell you the beers to fill it to carry around as you play all 18. Make sure to keep it out of the bunkers and hazards though, they don't allow you to play wedge shots on the little course.
Score: 4.5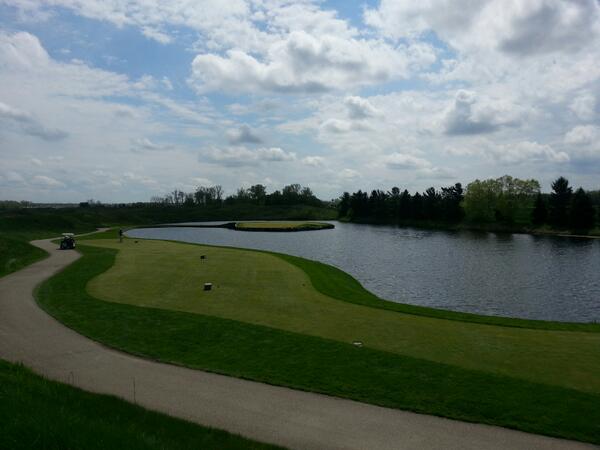 Difficulty
The picture above says enough. The course is hard. I play it from the tips (close to 7300 yards) and the course rating is about 76 with a high 140 something slope. That's tough. Plus, it's almost always windy here as there aren't many holes that are protected from the breeze. Hitting that shot on 17 gets you nervous enough, throw in a 15-20 mph wind and you're odds of rinsing one go way up. Eagle Eye has plenty of sets of tees for everyone and the options make it enjoyable if you pick the right one.
The fairways are mostly generous, but there are some challenging approach shots that aren't designed to accommodate the average hack. As I noted earlier, the greens can be quite undulating as well and you'll 3 putt them all day if you leave yourself lengthy putts once reaching the greens. There's plenty of water, so unless you're on tour, plan on losing a few balls. The native grass doesn't come into play on 3/4 of the holes, but a stray tee shot at some point in your round will likely find it and make life tough on you.
Remember, I'm not rating difficulty on 5 being "way too fucking hard". I'm rating a course a 5 when I'd say it's playable and enjoyable, but not easy, for players of all levels.
Score: 3
Composite
Eagle Eye isn't for everyone, but it's worth playing if you buzz through the area or live with in a short drive. Or, if you're just a huge fan of the TPC course and don't want to pop a $45o green fee and fly to Jacksonville, go here. It really is the closest thing you'll get to the famed Sawgrass layout. I promise you'll be sick of Pete Dye's railroad ties by the end of your round if you don't play well.
Score: 3.83