As Shitty As Advertised
We were warned that these greens would be bad and the players and media didn't sell them short. I've never seen anything close to these conditions for golf on TV. You'd think they would have at least brought in the green paint to cover up the dirt spots for the viewers at home. The look of the greens is really a shame. With the fucked greens the golf course is like a hot chick with a great rack and an absolute butterface (every thing is good but her face).
Just look at what it should be like above. I have dreams about teeing it up on courses like that. Instead, we have to watch the players putt on this shit.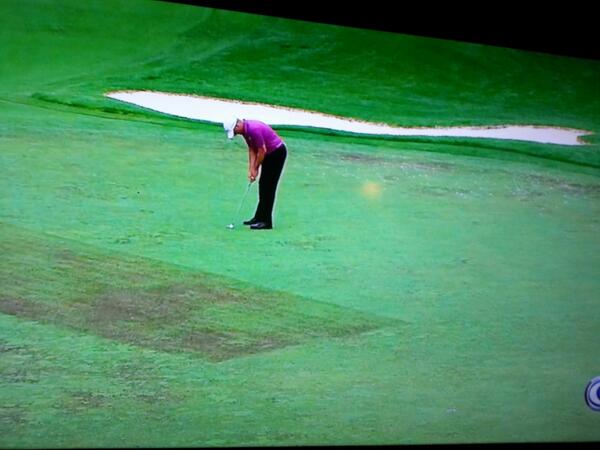 As I tweeted earlier, that looks exactly like a Staten Island muni I used to play once a year. The good news is that the conditions have made the golf a bit more interesting to watch even though its less aesthetically pleasing. Seeing these guys murmur to themselves as they miss fairly easy putts is amusing.
His Mudder Was A Mudder
Meanwhile, nothing is bothering PHIGJAM. He's always good in the slop, but I'm shocked that he's not out there bitching about the greens to anyone on TGC that will listen. Thing is, he has nothing to complain about. He's 30 of 30 from 10 feet and in and leading the field in strokes-gained-putting by a wide margin. That's pretty incredible when you see the image above of Quail's 9th green. Phil is unfazed……he's just lollygagging around the joint with that Jerry Sandusky-creeper-smile and his stupid thumbs up gesture.
I like Phil, I really do, but that's weird.  KNOCK IT THE FUCK OFF!!!!!
Bitch Tit's putting exhibition lead to a 67 today with just one untidy bogey at the 12th. His round had a little bit of every thing and sure was fun to watch. I suspect he'll keep the TV ratings high over the weekend, or at least as high as possible without TW.
Rory is right there lingering in contention for the weekend. This shouldn't surprise us. He and Watney are both within striking distance of Mickelsauce. They're ball strikers, and the damp turf and shitty greens have mostly turned this into a ball striking contest. Sergio is also a great mudder so of course he's just a few back.
El Nino had himself an interesting day. First he indicated he was having some back troubles (still from jumping out of that tree at Bay Hill I suspect). This lead to him walking through shots and had TGC broadcasters commenting on how his balance was off. Clearly Faldo and McCord weren't cued in. Next he putted with his wedge on the green, yeah, just for fun. Of course he made it.
At first glance I figured the guy was having his weekly bi-polar episode. Unless his putter was snapped in half, what the fuck was he doing? He was just trying to 'chip' it over a spike mark. That takes talent, but that wasn't the end of the Sergio excitement.
Once Garcia played on to the green at 17, he marked his ball to the side to allow a wider path for Bill Haas to putt through. When he replaced his ball he put it in front of his marker. Of course a viewer called it in because no one noticed it in his group or from the broadcast booth. Sergio said he'd take the penalty because he really wasn't sure what he did when replacing his ball. After reviewing the video the tour decided no penalty was needed. Because Garcia hadn't inked his card, he was never in jeopardy of being DQ'd like Tiger at Augusta.
I'm a little fed up with the call in bullshit. If no one in the group or on the property sees a violation then I'd just assume it didn't happen. I know golf is supposed to be above all that and sees the call in thing as a catch all for integrity of the game, but it is getting out of control. No one is watching my rounds from the couch with a DVR and high def picture to see if my ball is 1 millimeter closer than when I first marked it. The Tour should take a stand and Augusta National should follow their lead. No more call in couch potato rules officials.
Golf Boys Oh No
Perhaps you've seen this, perhaps you haven't. This video is going viral and I have no idea why. A couple of club pros decided they'd give the Golf Boys a run for their money with a golf related parody video. I think it's god damn awful, but what I think doesn't matter. Have a look for yourself:
I don't get it, yet the #twitternerds are eating it up. I promise, that's the last Vanilla Ice or parody video of any kind I ever post.
Fantasy Golf
Hot off my win last week with Billy Horschel I jumped back in to contention in my pool. At least now I could see the leaders. Thanks to my pick of Nicolas Coldsore… ….errrrrrrrr….Colsaerts I'm promptly back out of it. The fucking guy was -4 thru about 12 holes in round 1 and was one shot off the lead. 24 holes later and he's trunk slamming his Mercedes courtesy car for the weekend. I figured with his length he'd make the par 5s play like par 4s and have a big advantage on the field because he wouldn't have to hole as many longer putts to score.
Funny story about Coldsore…..errrrrr…. Colsaerwhatever…..the Belgian Bomber; on Friday at the Ryder Cup last year, he walked off the 15th green at Medinah about 30 feet from me while the rest of the group was still putting out and the match was still on the line. I'd estimate 10,000 people were in the vicinity. He made his way through the crowd and took a leak in the shrubs behind some trees near the fence line. It was like he was playing in a Sunday morning foursome and had too much to drink. It's one of the oddest moments I've ever witnessed at a golf tournament. When you've got to go, you've got to go.
You Need Action?
My buddy roped me into this because my life must be too boring and I need more things to do on the computer. Each week FantasyGolfTour.com has a pay for play event and a free event. You can sign up for either. You'll figure out how it works, but the basics are that you pick 4 guys from each pool and play them as you desire throughout the 4 rounds of the tourney. The buy in for the pay event is $25 per week, but you can win 4k if you know what you're doing. The free event is for points that you can use towards prizes. With full disclosure, I will tell you that if you sign up through my link I do get something, like a kick in the balls or a girl's underpants from a vending machine in Japan (yeah, those exist). I really don't know how it works, but click below if you're interested. Break a leg.
http://www.fantasygolftour.com/ShutFaceGolf