Slick Rick
There isn't much about the Zurich Classic of New Orleans to make you take notice of it. Rarely does a big name win it (Bubba wasn't that big of a name in 2011 when he won) let alone play in it. I classify it as an NTT (No-Tiger-Tournament). Not that TW is the only player that matters, but he is. There aren't many other highly ranked golfers that make the effort to get to New Orleans either. Additionally, Zurich is sandwiched between the Players and the Masters, which means the guys that don't need the payday don't give a fuck.
Enter Ricky Barnes. Barnes is one of the guys that does need the check this week. Not that he's struggling to live, but Rick needs the check to keep his status on tour from year to year. Rick is a big time talent and former U.S. Amateur Champion (2002) that is known as a mudder  with an ugly swing who's game often shows up when the course is tough and conditions are rough. That's what makes his 64 today quite shocking. He's been way off the radar, these aren't exactly U.S. Open conditions, and Ricky's wife just delivered their 2nd child into the world on Monday. His wife I said…..yeah, I've got her covered. Don't worry.
About 4 years ago I was a guest at a private club on a day rainy day when the weather scared everyone away but two groups. My group played in the slop, I always do, I'm a mudder too. And I wasn't turning down a chance to play a storied track no matter what the rain did. The other group……Mr. Ricky Barnes and his entourage. They were guests of the club and the head pro told us we'd see Rick out there so we knew ahead of time to look across the fairways for him. When we asked what the fuck he was doing there the pro told us he was in town because his woman had a volleyball tourney that weekend. 
That's Suzanne Stonebarger, aka Mrs. Ricky Barnes, she's a pro volleyball chick. No, we shouldn't be surprised by this. Home boy looks like a super hero and these guys all do well for themselves in the vagina department. Rick's been at this for a long time. When he played in the Western Amateur 15 or so years ago he was often given the keys to the host family's car and came home reeking of pussy. For Rick's sake, let's hope 2 kids in the last 4 years didn't wreck the images of his wife seen above.
Cajun Golf
What else happened in New Orleans today? A 3 legged gator crossed the fairway. Yeah, you read that right. Look!
The tour had video of it limping around, but it's kind of pathetic to see. The poor fucker is also missing chunks from his tail.
Tianlang Guan was back in action. I'm still trying to figure out how he gets out of so much school in China, but here he is playing on a sponsors exemption. It's probably a good move by both parties for him to be here. Zurich could use the early round media attention and Guan playing in any tour event with pros is a plus for him.
The little man shot 72 today which again is pretty amazing for a 14 year old averaging 242 yards off the tee. The course was soaked from a Wednesday storm and that's forcing him to hit copious amounts of hybrids into par 4s and par 3s. Every round he plays I keep thinking he'll shoot 80 on these tour courses and he proves me wrong over and over. Can he make the cut tomorrow?
In fantasy golf I've got Billy Horschel this week, so we should all fully expect him to tank after a solid 67 today. It's ironic that the last time I noticed Ricky Barnes on a leader board was at the 2009 U.S. Open at Bethpage. Lucas Glover won that Open and here he is again out of nowhere with a 65 and one back of Barnes. Glover, Barnes, and Guan will all be interesting stories to follow through Sunday.
PGA Tour iPad App
The best thing about the PGA Tour's online experience is by far it's ShotTracker interface that charts every shot that every player in the field hits and shows you were it is within just minutes of being hit. It's mostly accurate but can sometimes mislead you before a correction is made. If you're stuck in the office while golf is being played, ShotTracker is all you've got to get you through the day.
When I heard about the new PGA Tour iPad app I figured they'd finally given iPad users a way to use ShotTracker without Flashplayer. Sadly, this isn't the case. The app is nothing more than some enhanced leader board features, stats, and scorecard information. Unless I'm missing something, THERE'S NO FUCKING SHOTTRACKER!!!!!!!! So what's the point? This app is a total fail until it includes ShotTracker.
The 712U From Titleist
I'm getting old and at some point having a forged blade 3 iron in my bag is going to just be for show (perhaps it already is). I've been kicking around the idea of sneaking a Taylormade RBZ 3 iron in the bag. I will not use a 2nd hybrid out of principle. When shopping for a new magic 3 pack I found the Titleist 712U that made it's debut this year.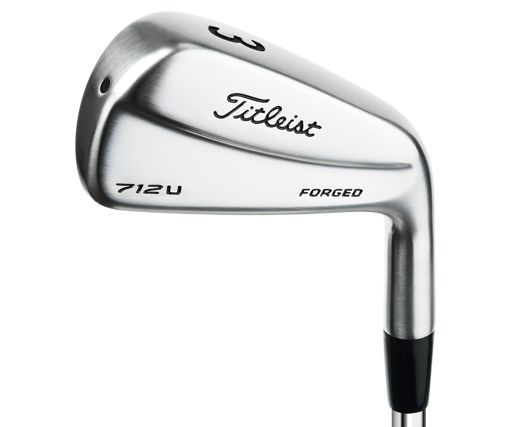 I'm slipping because this is another one that got by me when it was first released. It's a beauty though, isn't it? Here's what the Titleist website tell us about it:
Titleist® 712U is a high performance utility iron that delivers trajectory and shot control, with enhanced stability from a deep CG. The construction features a forged 1025 carbon steel hollow body with a perimeter welded, high strength 455 stainless steel face to deliver an address profile alternative to cavity back irons and hybrids.
In summary, it's a players long iron that should be much easier to hit than what's currently in said player's bag. Two, three, and four iron models are available. What'd I'd like to know is, have any of you hit one? I'd like some feed back. Please leave a comment below and let me know what you thought of it. I need to find a demo.
Trick Shots
I almost forgot to share this video with you. Some amazing trick shots here from Euro Gareth Maybin. The dude with the can on his head is fucking insane.
More Zurich this weekend, watch out for gators.