How do you cure a wicked hangover? That's right, bite the snake that bit you. More alcohol, usually in the form of well mixed Bloody Mary. With my Masters' hangover still clouding my golf brain, the RBC Heritage is the necessary Bloody Mary on the PGA Tour schedule.
Of course, my hangover isn't that bad……
New Week, Uglier Jacket
Ahhhh……..Hilton Head. Nothing like a trip to the Palmetto state to make us Northerners realize we're still getting fist fucked by Mother Nature. Harbour Town looked pretty fucking good on television today to anyone still trapped inside due to the shitty spring weather. The boys on tour love this place and it's got the perfect spot on the schedule to de-stress from the Masters. Not to mention, if you come here and win you get this cool plaid jacket.
It looks good on you though, Carl.
The event at Harbour Town definitely has shown that a certain style of player typically wins here (although 5 time champion Davis Love doesn't fit in) due to the course set up and how it plays. That style being accurate/control players that have great short games. Those that are familiar with the course think that it is Pete Dye's finest work. It's on my 'To-Play' list. I'd think a Harbour Town/Kiawah Ocean Course double would be a pretty good weekend if you're headed to the area.
This week, I've got big Jim Furyk in my fantasy pool. If you also picked him, I'll just apologize right now for ruining your enjoyment of the weekend. My picks have been absolute dog shit this year.
Adam Scott Pussy Magnet Update
If you read my round up of last week's final round you'll remember that I said Adam Scott was again single after dumping his tennis pro girlfriend. Do all these fuckers date tennis pros? Christ. Well, I was wrong. It seems as though our new Masters Champion has reunited with his ex, Marie Kojzar.
Marie is apparently a well-schooled architect. Credit to him to finding a girl with a brain. From what the interwebs tell me they've been together on and off quite a bit over the last decade. Looks like she's got some nice tits, but her profile picture below is a bit manly.
As Seen On The LPGA Tour
The ladies were back in action today (and yesterday) in Hawaii. I have no fucking clue who's winning the thing at this point, nor do I care. But I found this picture quite amusing and thought you should see it. It explains so much about why I don't watch women's golf.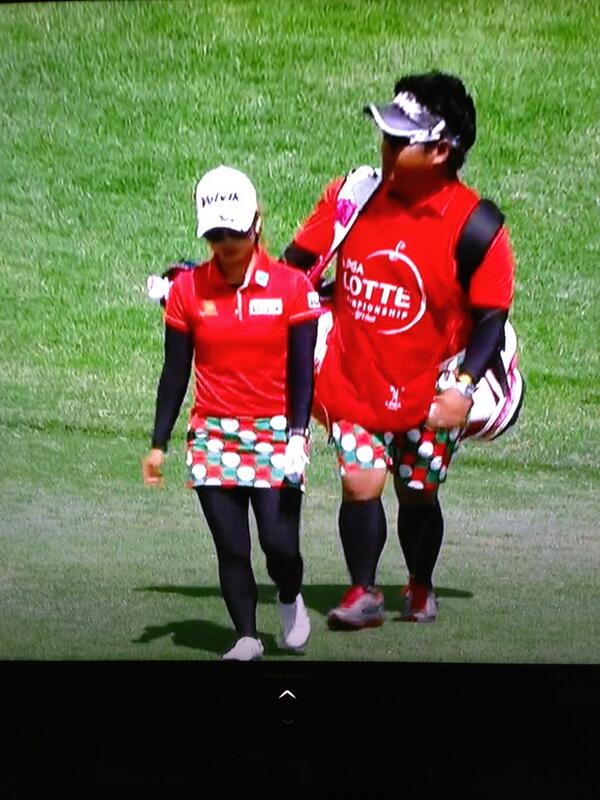 That screen shot is courtesy of Yahoo's Shane Bacon who tweeted it while watching the action.
A. What the fuck were they thinking? I'm digging the high-sock look from the gals that are wearing them on the ladies' tour, but to have your caddie do the same? Gross, weird, and queer.
3. How cold could it have really been in Hawaii today? You needed under layers to shield you from the chill? Fuck off.
D. If you're reading this site and you use Twitter, you probably should give Mr. Bacon a follow. He's loaded with real time insight and quality info from the golf world. In other words, he watched a lot of golf and tweets about it.
T&A Time
Do you know who Meghan Hardin is? If not, let me introduce you.
Real or fake? I'm having a hard time with that one. Ms. Hard-on….errrrrr……..Hardin is another former Big Breaker who is struggling to have any kind of pro career beyond the the Golf Channel's reality show.
Hopefully the California girl breaks through in some capacity because seeing more of her cannot be a bad thing. Meghan has a nice little website with plenty of gallery pics if you care to take a look.
Good Bye Mr. Summerall
Pat Summerall, the CBS voice of golf emeritus, died this week. Pat was a staple of the Masters broadcasts for close to 40 years. In many ways his passing feels like the loss of a great uncle or even a grand father. There just aren't many legends like him left working their craft like he did.
Jimmy Roberts did a nice piece on Pat during today's broadcast of the tour on the Golf Channel. Robert's bit highlighted the fact that Summerall was probably one of the first in his role to figure out that less could be more, and to be economic in his words while the picture on the screen tells the rest of the story to the viewer. Thanks for all the great memories Pat. RIP.