Rule With An Iron Fist
With the wind up and conditions and hole locations more difficult than what we saw Thursday, scores shot up significantly in round 2 of the 2013 Masters. The field average increased from 73.05 to 74.16. With that, play slowed to a crawl and rounds were being clocked in the 5 and 1/2 hour range. That's fucking ridiculous. But what's more ridiculous is  slapping a penalty on a 14 year old kid trying to make the cut when everyone in the field is playing at a snail's pace.
Tianlang Guan was assessed a penalty on the 17th hole on Friday because it was his third bad time of the day. What this means is, his group fell out of position and was put on the clock. Once this happens all players in the group are timed. The first player in his group to his ball off the tee is given 60 seconds to hit. The others have 40 seconds. If you exceed your time limit 3 times, you're stroked.
I get the rule, but the fact of the matter is that the tour pros who are also playing slow know that when they're on the clock they can speed up, get back in to position to be 'off the clock' and resume their slow play. The difference is, this poor kid didn't know how to work the system so he got busted.
It's a bit like when everyone on the highway is speeding and the cop pulls over the guy who didn't see the fuzz hiding in the median after everyone else slowed down.
That's Glen "All" Day. Remember him. He was the last player to get dinged for slow play on the PGA Tour. That happened in 1995. Guan was born in 1998. Steve Lowery was the last guy to get a stroke for slow play in a major, this occurred at the PGA in 2004. If all this doesn't show how ludicrous the penalty was, I don't know what will. I think you have to use judgement here. Let the kid make the cut, and advise him off the course that if it happens again on Saturday he'll get stroked. I know the official was just doing his job, but he damn near had 3 billion Chinese people ready to start a war with whomever they could find to blame.
Nobody Is Above The Rules Of Golf
If you watched any bit of today's coverage you undoubtedly saw what happened to Tiger Woods on 15. I wish I had the video. In short, he had to lay up on his 2nd shot, then playing his 3rd from 87 yards he nearly dunked it in the hole. The problem was, the shot bounced off the flag and went back in the water. Amazingly he got up and down from almost the same spot and made 6.
Here's where it gets interesting. Tiger admitted to taking his drop 2 yards behind where he hit his original shot. The #twitternerds believe that he either had to drop in line between the hole and where his ball crossed the hazard (which would have been more left of his drop) or drop from where he just hit from.
My gut says TW knows better and there is a third option that allows him to go back in line with the hole from where he played his third shot, but I'm never right on these. How would that be different than calling his ball in the water an unplayable lie?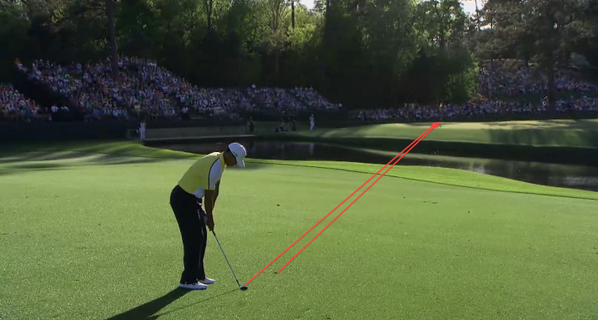 Whatever the case, he carded a 6 and signed his scorecard. What can be done about it now?  Would ANGC actually DQ him before the start of the third round on Saturday? Imagine that. Leading the tourney through 32 holes to a DQ at the fucking Masters. I can't see it happening, but there's a lot of chatter about it. We'll have to wait and see what happens.
Other Than That, Today Was A Bore
That's sarcasm. The action today was pretty good. Guys like DJ and Fowler erupted. Sergio self-defeated himself, Leishman hung in there, and Jason Day came to life. Plus we still have Westwood, Luke, and Rory right in this thing with Freddie in the final group! Tiger or not, the weekend is set up for a classic.
Even if Tiger isn't DQ'd, I feel like his back nine today was a killer and will cost him a win. He could have got to 7 under with relative ease just by hitting fairways on 13 and 15. He'll kick himself for loose tee shots there on Sunday night I imagine.
Did any of you catch Freddie's post round interview. When asked about winning the Masters, he replied that if he won it he's just retire/quit on the spot. No more golf, just ride into the sunset. That'd be one hell of a way for a 53 year old hall of famer to go out. I think Nantz would have a stroke in Butler Cabin.
Towers Only
Have you noticed there are no on-course reporters this week? It happens every year at Augusta because they don't allow it. TV guys covering the action are either in Butler Cabin or a tower by a green. You'd think it would take away from the viewing experience, but it doesn't. They have extra staff inside the ropes getting club numbers from the caddies and holding up microphones close enough to caddie/player discussions that let us listen in. It also means that the guys in the tower have to shut up and not talk over the player/caddie chats to get the same info. It's fan-fucking-tastic. I hope NBC or CBS figure this out and runs with it. May be it's not feasible for normal events because it requires extra staff, I don't know, but enjoy it while you can.
WAG Time
In January I wrote about the whereabouts of Jason Day's golf game and with that how it would be nice to see him win soon so we could see more of his wife. Well, I got what I asked for, he's back in contention which means we'll see plenty of Ellie if he hangs around through Sunday.
Remember her from 2011 when Day tied for 2nd. Of course you do.
While we're talking WAGs, it seems like an appropriate time to say good bye to Paulina Gretzky for the week. I can't see Dustin Johnson coming back from his train wreck of a back nine today and that means I can't justify Paulina pics for you every day. So here she is, in all her glory, for what will likely be the last time of the week.
Is that DJ wearing a Burger King mask? Sure looks like it. I know it seems cruel to go out like that, but you can get plenty more of her here at BroBible.com's post about her.
Round 3 Live Chat
This is officially your last reminder that I plan on opening up a thread to all of you to provide live comments during CBS's coverage tomorrow. I'll try to set things up early so we can go right at 3 pm eastern time. I'm a little deflated about it now because some other blogger stole my idea and did this same thing today for round 2. The author of that one must not have a day job that forces them to have actual obligations and responsibilities throughout the day.
I'm looking at some free software to make the experience more user friendly, so don't be shocked if the original post here links you to something else. As always, we'll do our best to keep it anything but clean. If I can't make the software work, we'll just have a blank thread with everyone commenting in it. Adios.