Whew…..we're just a few hours a way now. I wasn't sure we'd make it, but by the time the dog barks in the morning to make me aware of her need to shit, the 77th Masters Tournament (pronounced toon-a-mint for this week) will be under way. Of course Jack, Arnie, and Gary Player will kick things off as honorary starters per usual in front of thousands of patrons. Meanwhile, millions of us golf nuts will become unproductive in the office watching the coverage from our desks when our boss isn't looking. Yes, there's nothing like Masters week.
Of course there were some happenings at Augusta National today, here's the round up.
Chairman Payne's Presser
Augusta National Chairman Billy Payne held his annual presser today. Why am I discussing it? A few things he said were interesting. First, they changed the cut for next year and beyond. Instead of the top 44 golfers and anyone within 10 shots of the lead making the cut, they'll go with the top 50 for the weekend, keeping the 10 shot rule. Payne basically validated this change by saying, the more the merrier. Second, Billy said nothing about anchored putters, intentionally. What he did say is that he hopes the tour and USGA can come to an agreement. This wasn't a surprise. I don't think ANGC wants to become a governing body of the game. Stay tuned.
When Payne was asked about the featured groups on the bonus online/DirectTV coverage (specifically, who was in the groups each day) he told the media that Tiger will only be featured on Friday. The Men of the Masters only allow players to be in the featured group once before the weekend. Seems like a short sighted decision to me. TW will go off early on Thursday and the featured group coverage starts early. To get the most TV time it would make sense to feature Tiger on Thursday. When Friday rolls around, Tiger's entire round will be on the normal broadcast and serve no purpose to be highlighted on the bonus coverage. the Men of the Masters are normally better than this. I'm just saying.
Lastly, Payne announced that the Masters would extend invitations to all PGA Tour event winners, meaning even the winners in the fall of events that come after the Tour Championship. They've flipped on this a few times, and as it currently stands, the guys that won last fall didn't get automatic invites this year. In fact Charlie Beljan, Mr. Panic attacks, won at Disney last year and is not at Augusta this week. He's been venting on Twitter about it.  Sorry Charlie, wrong year, don't panic.
Par 3 Contest And The Jinx
The best thing about the Par 3 Contest is that it gives you your first live look at competitive golf inside the first major. You see spring, it's no longer a rumor to us Northerners. But after that, the whole ESPN broadcast loses me. It has become a bit schmaltzy on TV. I don't know if its the Harry Connick Jr. voiceovers, Mike Tirico, or watching 3 old timers hack it around a pitch and putt course, but I'm bored after about 20 minutes. I love to see it, see the course, see the fun, but the broadcast needs to be changed. Less Tom Rinaldi, less Rich Beem and Ian Baker-Finch….give me more little kids and actual tour pros  throwing darts at the flags. I'm told someone actually won this thing. Several guys ended up in a playoff, but because of the jinx no one tried to win it. It's a shame the playoff wasn't broadcast anywhere. Ted Potter Jr. ended up taking the trophy. Something tells me Ted won't be the guy to end the jinx.
Nick Watney made an ace on the 9th hole in the Par 3 contest (didn't I tell you yesterday he'd hole out this week?). Ben Crenshaw aced the 7th. You can see the Watney and Crenshaw aces on the Masters website. I have no way of embedding them here as Augusta National owns every spec of video that is shot on their grounds. On the big course, Bubba Watson used the equipment shown below to ace the 16th hole in his morning practice round.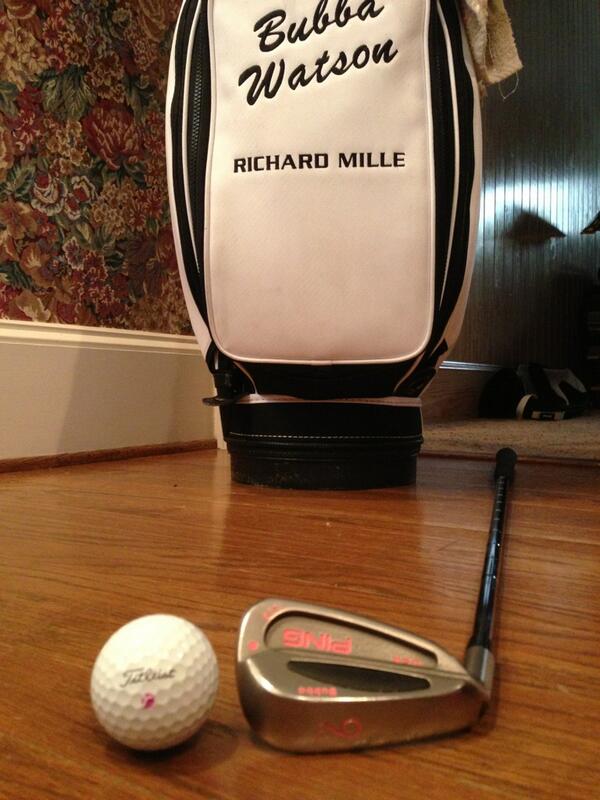 That's a 9 iron, BTW, and the 16th plays about 175 yards. There was no celebratory hovercraft ride over the pond post-ace.
WAGs, WAGs, WAGs
The next best thing about the Par 3 is that many of the competitors sub their real caddies and bring in ringers. Some use their young kids or grand kids. Others bring their mother-in-law, sister, wife, girlfriend, or significant other (cough, Kaymer). The caddies of note today were used by Graeme McDowell and Rory McIlroy who played together.
You all know that Rory brought his tennis pro girlfriend because I told you he would on Sunday. Here's the pic if you missed it/them/her just for evidence.
The star of that group wasn't Caroline Polishlastname. It was GMac's wife to be, Kristin Stape.
Delightful. The white jump suite does her no justice. For a woman that has pumped out a kid, she's stunning. Good work GMac. I'll have something on her someday down the road when there's more time for just her. It would be a shame if we lost her in the shuffle of the Masters.
A more interesting tit-bit (typo and pun intended) in the WAG department was the pic Dustin Johnson tweeted this afternoon.
No, that's not the tweet. ESPN didn't show DJ in the Par 3, but we all know Paulina Gretzky was lingering around the property. What Johnson tweeted is protected on his Instagram account, so if you want to see it just click here. My question is, who the fuck are the kids? DJ's tweet said something about a great day with the family. Huh? Did these two just rent a family for the day? Very strange. Wouldn't it just be my luck that he took some underprivileged kid with a terminal illness to the Masters and I'm being a dick about it.
Round 3 Live Chat
I'm still looking for feedback on the idea of opening up a thread to all of you to provide comments in during CBS's coverage on Saturday. As always, the more vulgar and comedic you are, the better. I'd say it's about 50/50 that I do it as of now, so speak up and convince me. I'm also still working on the logistics of doing it. I think just a blank thread with everyone commenting would do it. If you've already commented here you likely won't need to be approved. If you haven't, I'll approve users on the go to make it work. Refreshing your page will show the new comments. Comprendo?
Masters Thursday is here, enjoy.