Ahhhh yeah wakaflakas!!!!! We're one day closer to getting this shindig started. Nothing too news worthy happened today so we'll keep it quick and low brow, per usual.
And Bubba Said, "Let Them Eat……Grilled Chicken And Mashed Potatoes?"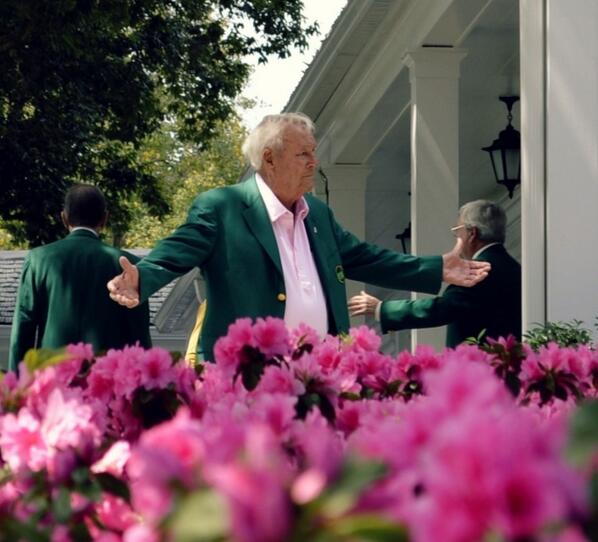 That picture of Arnold Palmer is probably the best photo we'll see from the entire 2013 Masters. There is no truth to the rumor that this was his reaction to finding out what Bubba was serving at the Tuesday night Champions dinner. Arnie was actually doing his Tony Montana impression.
No, I kid. That shot of the King was taken on the veranda of the clubhouse where the champions of past Masters all gathered for an adult beverage before dinner started. If only I could have been mosquito buzzing around that group.
So what did Bubba serve? He kept his menu a secret and told most that asked that he hadn't decided. He claimed to be quite nervous about the decision. A few pundits predicted he'd do something off the wall because, that's what Bubba does. I figured as a University of Georgia alum he might serve up some gator. Alas, Bubs chose comfort food.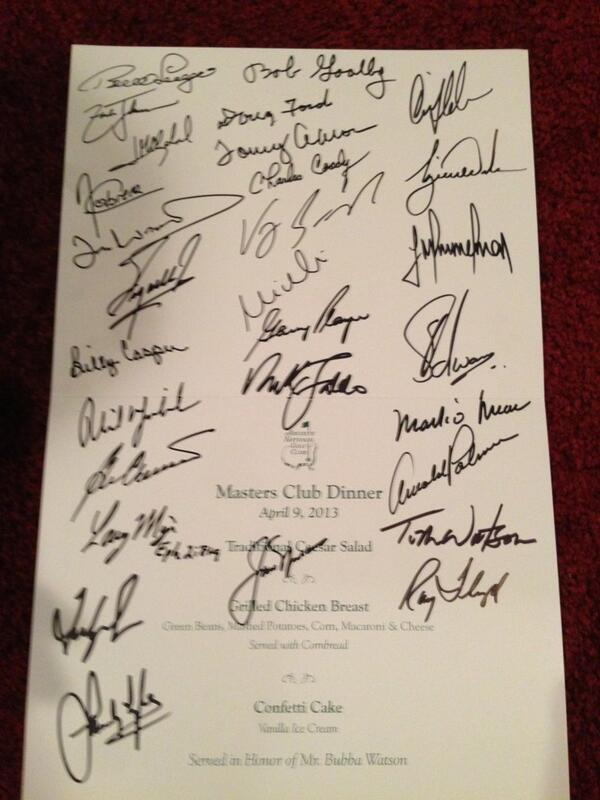 He shared this pretty sweet image via Twitter with the phrase, "what a night". Grilled chicken, mashed potatoes, corn, corn bread, macaroni and cheese. Sounds like a few of my favorites, just not what most were expecting. Did the guy that yells "MASH POTATOES!!!!" when Bubba hits driver have an influence on him? Nick Faldo broke the menu on Twitter with a #happymeal hashtag to close the thought. What a dick.
If you're curious what other have served, check out this bit of compiled information on past  Champion's Dinners.
Happy Pairings Day
Every major has great pairings for the early rounds, but the Men of the Masters clearly have a sense of history, humor, and irony that is displayed when their pairings are released each year. That's why I find them so compelling and await them on Masters Tuesday like a kid on Christmas morning. Here's the threesomes of note for Thursday/Friday, and you can find the rest here.
Brandt Snedeker, Ryo Ishikawa, Justin Rose (9:17 a.m.) – I still don't have a clue why Ryo is in the field, yeah, Asian golf boom….yada yada.
Charl Schwartzel, Webb Simpson, Peter Hanson (9:39 a.m.) — Hanson lacks the major pedigree in this three ball, does that change on Sunday?
Bubba Watson, Ian Poulter, Steven Fox (10:34 a.m.) — Traditional pairing of the reigning Masters champ with the reigning U.S. Amateur champion. Poults will probably tell his mates in this group all about the worthiness his two WGC titles as he does his trolls on Twitter.
Tiger Woods, Luke Donald, Scott Piercy (10:45 a.m.) — Strange group, IMO, who'd Piercy piss off? Pairings really don't matter to TW, he won't notice the other two guys. Take note, this will be the 2nd to last group for Friday. If he's contending, that will be a pattern Woods is very familiar with by Sunday (unless Mother Nature fucks the whole plan up).
Jason Day, Rickie Fowler, Padraig Harrington (10:56 a.m.) — If you can figure out how they came up with this group, please comment, I've got nothing.
Ernie Els, Steve Stricker, Nick Watney (12:13 p.m.) — Looks boring on paper, but Stricks will hole everything, Els will miss everything, and Watney will likely hole out from somewhere (remember Olympic 2012?).
Ben Crenshaw, Matteo Manassero, Guan Tianlang (12:24 p.m.) — If Crenshaw wasn't likeable, I'd call this the Jerry Sandusky pairing. I don't anyone in this group can reach a par five that isn't 13 in two. #shortknockers
Phil Mickelson, Louis Oosthuizen, Martin Kaymer (1:30 p.m.) — Star power for sure. Rumor going around that Snoozin' Louie dinged his back. I don't see a round under 70 in this group for some reason.
Rory McIlroy, Keegan Bradley, Fredrik Jacobson (1:41 p.m.) — All three on their games and all three could go low. Yet I'd only bet a mortgage payment that Bradley makes the cut as I'm not ready to trust the other two.
Jason Dufner, Matt Kuchar, Bill Haas (1:52 p.m.) — I saw this one and thought, "somebody with a green coat thinks the winner could be in this group".
Who's Name Don't You See? 
That's right, everybody's favorite 12 step program, big John Daly. JD is of course hocking his wares for cash at the local Hooters in Augusta. Oi. Here's what Golf Monthly had to say about their observation:
Give it up John, just go away when you're not in the field. We all know John has a gambling problem, back taxes to pay, and has been too generous with his winnings over the years, but can the money he makes this week even make a dent in his debts? What's the cost of dignity? If you want to see the pictures and/or read more about Daly's parking lot flea market Busted Coverage has the complete details.
Round 3 Live Chat?
I'm tossing around the idea of opening up a thread to all of you to provide comments in during CBS's coverage on Saturday. Four letter words welcomed and encouraged of course. If there's interest it could also be done on Sunday. So what do you think? Somehow someway this site now has a following, and if enough of you are up for it please post your interest below and we'll get something going when CBS comes on the air. Speak your mind.