It's Tiger, Of Course He Has Multiple Fuck Buddies
Remember when Tiger won at Torrey Pines in January and I wrote about the course being Tiger's Fuck Buddy? It's very apparent that numerous courses on tour can also be described with this term of endearment. Bay Hill being one, then Firestone, Cog Hill, and Muirfield Village come to mind. So which course is Lindsey Vonn?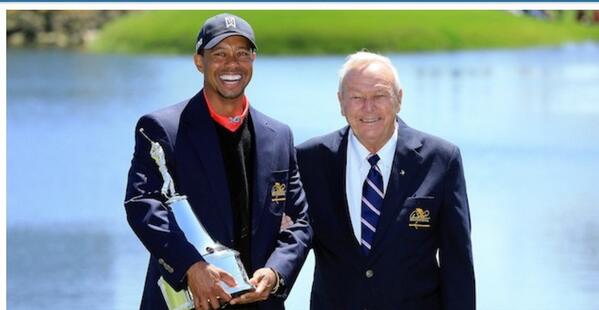 Tiger winning at Arnie's place for the 8th time leaves little debate about where his game is right now. His 3rd win of the year also put him back on top of the Official Golf World Rankings for the first time since the fall of 2010. Look at this stats compared to the field for this week.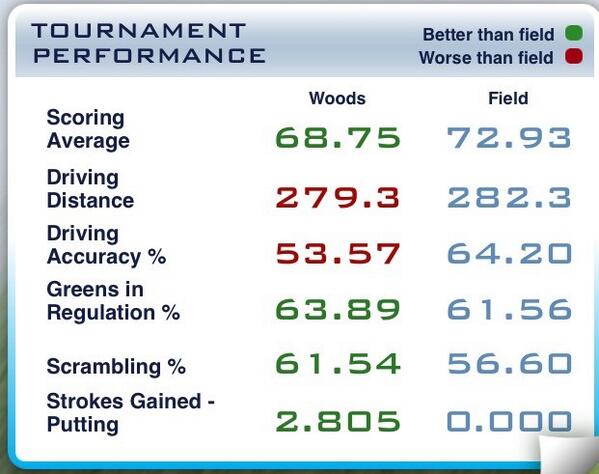 The chink in the armor you could poke at would be his (lack of) accuracy off the tee. I keep coming back to this when thinking of what he'll do at Augusta and if his wayward tee shots will be his downfall. Then I remember that 3 of the last 4 years there it wasn't his ball striking that held him back, it was the fact that he made nothing on the greens. That Strokes-Gained-Putting stat is off the charts. You think he'll give Stricker a sleeve of his green jacket if he wins this year?
There isn't much left to say about how he won this week. He made 75% of his putts from 10 to 20 feet (that's insane), he hit it every where off the tee, got up and down when needed, and watched the field wilt around him. Standard issue Tiger win. Next topic.
Flat Bills
While the majority of golf fans love Rickie Fowler, there are plenty that have nothing but disdain for his flare, his hair, and his inability to close down the stretch of a tourney. I think he's great for golf, wardrobe aside, and root for him whenever he has a chance to win. His triple bogey on 16 today wasn't his best moment, but I loved the fact that he went for it when he had the chance. Play to win, right Herm?
Earlier in his career in Phoenix Fowler had a similar opportunity on a par 5 to reach in two over water to try to catch Hunter Mahan and he laid up. Perhaps Rickie's bank account now gives him more freedom to flag hunt on Sundays, but going for that pin on 16 today shows he learned from his experience.
Tiger Fight
In 2008 Tiger could sell ice to Eskimos? He had endorsement deals from more companies than I can remember. Almost all of them bailed when his scandal blew up. Nike stayed, and so did EA Sports, the makers of his annual video game. With Tiger back at #1 and more visible than ever, they're both getting some serious bang for their buck of late. And of course, Tiger does EA Sports the favor of winning and regaining his #1 ranking the day before the newest edition of the game comes out. I think he also did this last year and in 2008 when the game launched the same week he won the U.S. Open at Torrey Pines. Conveniently, Arnold Palmer is also featured in the latest edition of the game and the two legends make a short movie to promote it.
Mildly entertaining, but full of bad acting. The stunt doubles used for Arnie were hilarious. I guess I missed the point of it though, what does it have to do with the game?
TV Time
There isn't much more to critique about NBC now that we've seen them for 5 weeks in a row. They do what they do. The spot light coverage on TGC…..I didn't see much of it, mostly due to the college hoops going on simultaneously.  I mentioned earlier the big number Fowler made at 16. It was ugly, but NBC got it all, right down to the chats he had with his caddie. We heard what they thought of the shot, the shape, the number to cover, the safe play, why Rickie backed off, and what he thought of the shot when he told the caddie how he struck it. Brilliant work. Even better, they stayed with it and we later heard how Fowler didn't like how he dropped after his penalty and it sat down in the soft fairway. That's the shit I'm asking for, that's why I watch!
That graphic above is a graphic of several shots hit near a Trackman device. As I write this TGC is replaying today's Tavistock clusterfuck and I can't help but wonder, why doesn't every network put a Trackman on the tee of every hole for a tournament? As soon as a ball is struck we could see club head speed, ball speed, carry distance, spin rates, etc. Equipment junkies and golf nerds would eat it up. A good Trackman can be about 30k, but they can afford it. I WANT ANSWERS, AND I WANT THAT DATA!!!!!! NOW!
With the Arnold Palmer Invitational being sponsored by MasterCard, the credit card behemoth decided they too would launch their new ads this week during coverage. These were filmed a few weeks ago with their tour players, Snedeker, Poulter, McDowell, and Ryder Cup Captain Tom Watson. They're fairly entertaining if you can't find the remote to fast forward or flip the channel.
I find it all too fitting that Poulter portrays the woman. I guess having a vagina made him perfect for the part.
Bitch Tits Tax O-Meter
No, I know you didn't forget about it. Please note that the Bitch Tits Tax O-meter in that upper right corner is in fact up to date. What's that you say? How can this be Mr. Shutface?   Phil played this weekend.
Well, yes, yes he did play. But he shot a zip code and missed the cut making no money. No update needed, but I'm glad you asked. This great form shown by Mickelsauce heading into Augusta means he'll probably either win there or Houston just to confuse us more.
Tavistock for real tomorrow. Will Tiger show up to play?