Say what? Yeah, none of that is even close to making sense. But that's the smorgasbord of stories I'm throwing at you on this Potluck Tuesday.
Coal Miner's Step Daughter
That's what Tiger's daughter may be referred to if this keeps going.  The Big Lead tell us that the former Mrs. Woods is dating a coal magnate that has more money than God. That's rough news for most of the male population that was hoping the ex-bikini-model with half of Tiger's money would be their next mate. I know she was my back up plan if anything happened to Mrs. ShutFace.
It now seems apparent that Elin has a type, and that type is men who have at least half of a billion dollars to their name. I still have no idea what TW was thinking in his transgressions that did her wrong.  Perkins' waitresses must be able to suck chrome off a trailer hitch.
Twitter Tweets
You might recall my post from January about Martin Kaymer being hitched, yes, to a woman. You don't? Well, refresh your memory. Either way, a little birdie tweeted today that this is no longer the case. In fact, I can't even find proof on the interwebs that they ever did go through with their nuptials.  Whatever the case, Kaymer and Allison Micheletti are no longer together. Take that anyway you want.
Who is the tweety bird? Her name is Christina Stockton. No relation to putting wizard/guru Dave Stockton that I can tell. You can get all you want of her at Christina's site and blog. She's a former Big Break participant (who isn't at this point?) and current California girl trying to live the dream on the Cactus Tour.
Bagdad Comes To Isleworth
That is not a reference to Iraq. Bagdad, Florida is the small and simple home town of Bubba Watson. For most of his time as a pro the self-proclaimed bumpkin has owned a home in the Scottsdale, AZ area and rented during his stays in Florida. That changed recently when Bubba and his wife purchased property in the swanky Isleworth golf community that is home to numerous touring pros and other stars. Not only did Bubba buy in that hood, but he bought Elin and Tiger's old digs.
Cute little story and plenty of #twitternerd jokes about fire hydrants, 9 irons to the skull, and Cadillac SUVs have been in circulation since this broke. My favorite and most accurate tweet was a comparison of the Clampetts moving to Beverly Hills. Golf.com had the most detailed version story if you care to read more. They also give you some of the reasons for the move and how it impacts Bubba's Tavistock availability for next week. What I haven't seen in any of these blurbs is that (correct me if I'm wrong) this was also Payne Stewart's old house and Tiger bought it from his widow. This place may be cursed.
A Rather Large Divot
Mark Mihal was standing in the middle of the fairway preparing to hit his approach to the green when a funny thing happened. The ground below him sank some 15 to 20 feet and he of course sank with it. The Illinois man separated his shoulder in the fall and was rescued within about 20 minutes from any further peril that could happen upon him.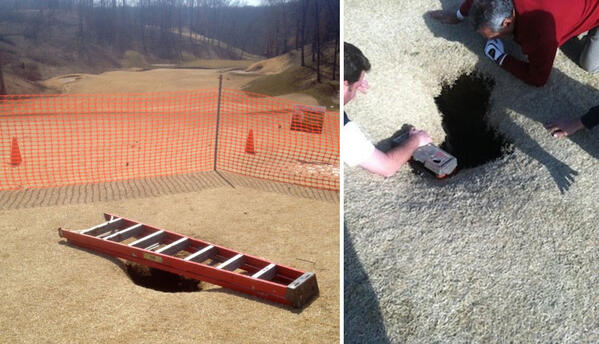 It's an amazing story and the pictures speak for themselves. Mr. Mihal has a blog and his wife gave the full story with more details, give it a look. The thought of being buried alive like that is worse than that reoccurring dream I have where I can't hit my tee shot on the first hole of the Wynn out of the casino because the ceiling is too low. Absolutely frightening.