Star-Studded Lead Board 
Mar 7-10 – Purse: $8,750,000
Doral – Blue Monster Course – Doral, Florida, United States
Leaderboard – Ongoing
R1
T1

Tiger Woods

-6
T1

Sergio Garcia

-6
T1

Fredrik Jacobson

-6
T1

Graeme McDowell

-6
T1

Bubba Watson

-6

T6

Phil Mickelson

-5

T6

Steve Stricker

-5

T6

Hunter Mahan

-5

T6

Peter Hanson

-5

T10

Charles Howell III

-4
Look at it again, just look at it. You can't get a better looking leader board than that. When the WGC events were born in 1999 this is what the creators had in mind. It's a virtual All-Star game like other major sports have and fans like us benefit (as does TGC, NBC, and anyone else involved with the tour). With international stars, major champions, flashy young players and well known vets in the top 10 you have a flavor for fans of all types.
Tweet Tweet
Birdies galore for most of the field today. Mahan and Tiger made NINE each. Incredible. Tiger got a putting lesson from Steve Stricker yesterday and it appears to have helped.  Freddie Yocks (Jacobson) eagled holes 8 and 10 on his way to a 66. The course laid down with perfect conditions, but with no rounds lower than 66 it still provided a challenge. Most of the field well under par shows you how much Rory McIlroy struggled to be over par again with a 73.
Phun With Phil
As you can see by the leader board Phil Mickelson was back to work this week after a layoff and a family vacation. He of course didn't disappoint. On 17 Phil took a might lash off the tee that he hooked down the right side of the hole to find the cart path. According to Gary Koch, Phil hit it about 300 yards and the path then took the ball another 150 yards…….yeah…. do the math……a 450 fucking yard drive. Check out the Shot Tracker screen shot I tweeted: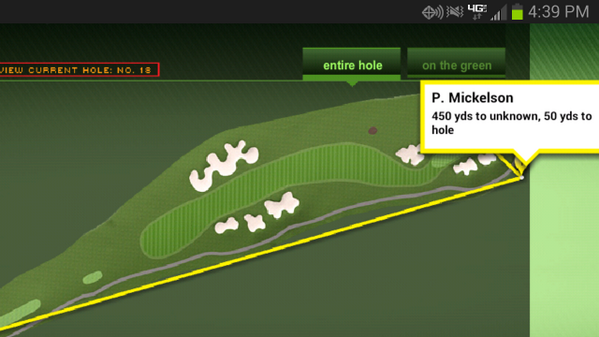 What did Phil do to follow it up? He hit his 50 yard chip from the cart path to 8 feet and made birdie. Never a dull moment for FIGJAM. But Phil, how do you hit such a shot? Please, please tell us as only you can…..
He's either a short game genius or full of shit. You decide.