Big Smiles, Big Checks
Remember when Matt Kuchar was one of those highly touted amateurs that flamed out of professional golf? He didn't even want to turn pro immediately after his college career ended to cash in on lucrative endorsement opportunities. He passed up a few million and took a job at a bank for a year or so thinking the Bobby Jones way of life would be all he needed. It wasn't. Once he turned pro he won the Honda in 2002 and then went MIA for the next 5 years to most of us following the tour. After retooling his swing to the flatter, one-plane version you see today, the can't miss kid from Georgia Tech is now the walking ATM machine many thought he'd be a decade ago. No wonder he's always wearing that shit-eating grin.
Kooch is now one of the more consistent players on tour and the stats back it up. He has yet to win a major but has shown well when the largest checks are there for the taking by winning a Fed Ex event in 2008, last year's Players Championship, and today the WGC Match Play.
The 2013 version of the WGC had a little bit of everything. Snowed out on Wednesday, big upsets Thursday, great golf on Friday and Saturday, and frigid cold and windy conditions for the semi-finals and championship today. The pic above is exactly what you think it is, a large tumbleweed being removed from the fairway by Hunter Mahan's caddie. Crazy. The final with Kuchar and Mahan was probably all we could ask for once Tiger and Rory were eliminated. Both finalists were a bit worn down from the grind of 5 prior matches and the weather yet still put on a decent exhibition of shots and clutch play. IMO, the turning point of the match was on the par three 12th. Mahan was beginning to get back into the match after being 4 down and hit it close. Kuchar stepped up and knocked it within birdie range and drained the putt. Mahan was just about to be back to 1 down and anything could happen, then old smiley Kooch stepped on his neck and calmed the comeback.
I don't know how we didn't see this coming. Matt has the perfect game for this format. Good putter, solid everywhere, nothing rattles him, former U.S. Am champ. #duh Oh yeah, and he's lost in the semis or quarters in the last few years to the eventual champ. He was due.
Hunter
Hunter Mahan didn't trail an opponent all week until Kuchar won the 4th hole in the championship match today. That's a hell of a run. Mahan's game looked unbeatable until he ran out of steam v. Kuchar, but that's how match play works, it is part of the charm of this format. Hunter's ball striking got a bit loose and he wasn't as solid around the greens as he had been in the first 5 matches. This lead to him getting grief about his short game from the #twitternerds because there's still a lot of people out there that remember how he choked at the 2010 Ryder Cup. His short game was the primary culprit in him losing his crucial match to Graeme McDowell and it cost the U.S. the cup. As noted by the tweeps defending Mahan, you don't get to the level he has without a fantastic short game. If you watched any matches he played before the final, you have no doubt how good he really is around the greens.
In the semi-finals Mahan took down Europe's match play hero Ian Poulter. It was a pretty impressive dismantling of the former assistant pro from England. The win raised HM's match play streak to 11 consecutive wins in this event. You think Davis Love regrets not having him on the U.S. team at Medinah? Yup, he even said so much this week in an interview as he noted that leaving Hunter off the team is something he still has trouble dealing with.  Nice work Captain.
Poulter's Trousers
@IanJamesPoulter has always had a reputation for donning a flamboyant (I didn't say flaming), wardrobe.  Usually I don't mind it as he reminds me of a chain restaurant waiter that is required to show 15 pieces of flair. Yet today I'm not letting it go. He wears his own clothing line so its not like he doesn't have  final say in what he looks like on the course. It appears as though today he decided he needed an extra layer to protect himself from the cold so he wore these rain paints around Dove Mountain in his matches.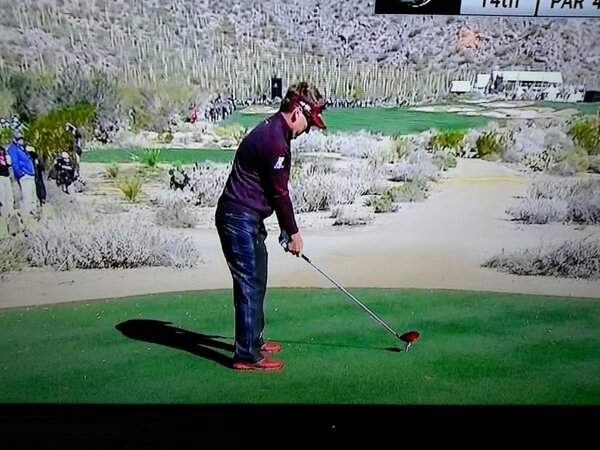 Half tartan, half black ass-less chaps…..with red shoes. What the fuck IJP? If you follow him on Twitter you see his brainless tweets about #tartan and #wearthetrousers, but this is putrid. At least he didn't make his self caricature head cover wear them too.
TV Time
Besides the usually Johnny Miller bullshit NBC was pretty solid this weekend, as was TGC. With all the matches going on simultaneously in the early rounds it would have been hard for TGC to screw it up. They didn't. Gannon and Faldo did a fine job carrying the early weekend coverage as well when they were called upon. Both did a nice job of filling the down time that match play can present to the viewers by providing detailed hole graphics that showed yardages to bunkers, elevation changes, breaks of the putts, etc. For the most part, they were ready with yardages, club selections and even grabbed some key audio of player/caddie conversations. I would have liked for them to explain the impact the elevation (the resort sits at about 3000 feet above sea level) has on the distance the ball travels, but maybe that is asking too much. They also could have highlighted the (shortness of the) yardages the players were hitting their drivers into the wind this morning under freezing conditions. There were a few well struck tee shots that only traveled about 245 yards and some were followed by 210 yard 3 woods to lay up on a 580 yard par 5. Those are incredibly average numbers for an amateur, let alone a tour pro. I think they missed an opportunity to expand on it.
My only other grief was having Finchem in the booth for so long. His blah blah blah blah blah with Miller and Hicks killed the championship match at a crucial juncture. I'm not going to get into the debate on anchoring putters right now. I do think the stance the tour is taking is probably the way to go about it, but I also don't find myself caring because it doesn't impact me. It will make for an interesting few years to see how the proposed ban ultimately plays out. I can't imagine a golfing world where a pro wins the Masters with an anchored putter but skips the U.S. Open because the USGA kept the ban.