Do you know who Adam Hadwin is? I'm guessing most of you don't. He's an easy-to-root-for 25 year old professional golfer from Canada who played for Louisville and has been trying to make it as a tour player since 2009. Hadwin has had a mild degree of success in 3 seasons of bouncing around lesser tours but lacks a true break through performance that could give him an extended stay at the big show.
His best finish occurred in 2011 when Adam showed well in his home country's open. He played in the final group on Sunday of that week, finished T4 and collected a very nice pay check. Adam doesn't have full status on the PGA Tour for 2013 (nor has he ever) due to finishing T32 at Q-school in the fall. Last week Hadwin Monday-qualified for the Farmers Insurance Open in San Diego and made the cut with strokes to spare.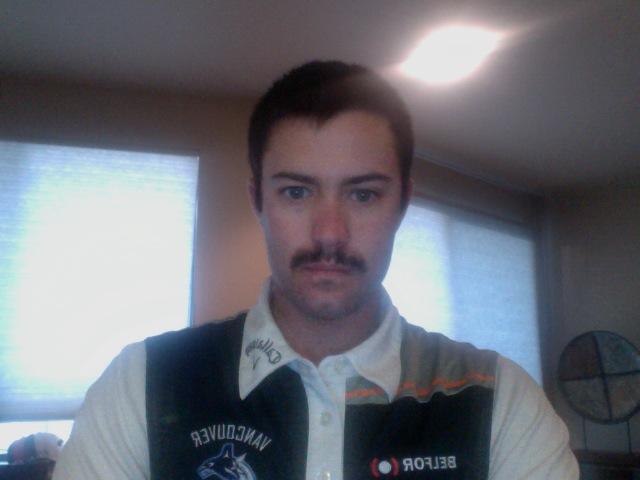 Through three rounds in San Diego he was 7 under and barely out of the top 10. Jimmy Walker was 8 under as the final round began. After playing the 3rd round earlier in the same day, both players struggled out of the gate in the 4th round. Five holes in, only two shots separated Hadwin and Walker. Walker ended up righting the ship and made eagle on the par five 13th to help him shoot 71, get into the top 5, and net him $268,000.
Hadwin's day got worse.  After making the turn in 41 strokes he carded a triple on the par three 11th and was +12 after 15 holes when play was suspended Sunday evening. Due to Tiger being assured of victory CBS demanded that the tour schedule Monday's restart for 11 am local time. They wanted the ratings, and now anyone still playing in the Farmers who hoped to Monday qualify in Phoenix was fucked. Hadwin's dilemma was to either stay in San Diego to play 3 holes and finish DFL (for a $10,000 check) or……. take his scheduled trip to PHX by withdrawing from the Farmers, collect no prize money, and try to qualify for the Phoenix Open the next day. Which would you do?
He chose to move on to Phoenix where his poor play from Sunday continued. He shot 79 and finished 104th in the qualifier. Who didn't see that coming?  Are these guys that full of confidence that they don't know when to ease off and lick their wounds? Were his brain and judgment clouded from constant overindulgence of mayonnaise and maple syrup (I'm presuming that all of our neighbors to the north have this issue, aeeeyyyy)?
Never mind that he had to travel to Arizona after he endured 33 holes at a snail's pace……..there's just no possible way one could have thought they'd be able to get the cluster fuck from Sunday (12 over after 15!!!!!) out of their head in time to find success on Monday.  A struggling pro like this should, IMO, take a 10k check anywhere he can get it. You can attempt to Monday-qualify at another event any week on tour. While 10k doesn't sound like much and might not make much difference to a tour pro's earnings, a cut made and finishing the weekend  with some form of a paycheck probably helps him reach an incentive with his sponsor. I wonder what Callaway thought of the decision.
Adam's decisions (possibly) get even more interesting. Google his name and the search pre-fills with "Adam Hadwin girlfriend" before you can blink. One click takes you to  a few random sites that talk about him, his golf game, etc., but there's a few that also show you this video of a girl claiming to be "Adam's Girlfriend". It very well could be just some random performance artist that used this as her stage name. However, there's about 3 or 4 sites that link the video to Adam Hadwin. Is this a search engine oddity, or….is he really dating this nut job? I'm guessing there is no connection, but if anyone knows, please clarify for us. TIA